Rose Namajunas has always had the attention of the public. She first broke out when she was just 25 – at the time she had defeated the reigning champion Joanna Jedrzejczyk. Today Rose is 29 years old and she successfully recaptured the strawweight title having defeated Weili Zhang in April of this year.
But Rose is quite often mentioned in another context. While Rose's main mma coach is the widely respected and coveted Trevor Wittman, a lot of people throw a serious side eye toward Rose's longtime partner and former UFC fighter and kickboxer Pat Barry.
Pat celebrated his 42nd birthday just last month. Meanwhile Rose, 13 years his junior, is just 29. But this of course isn't that shocking in our modern day and age, what is however – is that the two had met many many years ago. Here's how Rose described coming into Duke Roufus' kickboxing gym on her joint appearance with Pat on Joe Rogan's ultra popular podcast:
Rose: Yeah I did one season of wrestling as a senior and then I did kickboxing and I met Pat at Duke Roufus' gym in Milwaukee  and that's kinda where I saw guys like him all those dudes doing it as professions and I was like maybe I can do it as a profession too, you know.

Joe: And how old were you at the time?

Rose: I first walked into Duke's gym I was like – I think I was 14, and then I left 'cause of 'cause I had other obligations and like stopped training for a while but I was still doing other sports and stuff. And I came back when I was like 17.

Joe: So you were really thinking at the time, maybe this was something I could do as a career?

Rose: You know, not for sure but definitely like I saw – I was always gonna be involved in martial arts no matter what as a hobby… no matter what
The really shocking part is hard to miss – the two appear to have met when Namajunas was just 14 years old. But it's unclear if the two were close right off the bat because Namajunas later said that a pivotal moment in her MMA career was the fight between Cris Cyborg and Gina Carano. That fight took place in August of 2009 when Rose was about a month into 17 years old. Here's how she described that moment:
 Joe: Now when you two started hanging out and Pat had already been an accomplished kick boxer, was an mma fighter and did that sort of embolden you to the idea?

Rose: Oh so the fighting? Like professionally? Yeah! And that's when I saw Gina Carano and Cyborg fighting at the that big fight that they had. And then that's kinda what inspired me to – oh I can take this to the next level.
A simple google search can tell you two things – first that in Milwaukee, WI where Duke's gym is – and where the two met, age of consent is 18 and the other thing is that Pat was 30 and Rose was 17.
Back in 2014, Namajunas & Barry gave the following interview to bleacher report:
 Pat remembers a lot about those early days because he fell in love with Namajunas that first time he saw her. He was struck by her beauty, by her poise and her attitude. You can say that love at first sight is cheesy, but you can't tell Pat he did not experience it.

It took a little longer for Namajunas to feel the same way about Barry, but his charm eventually wore her down.

"I say we've been dating for more than five years, but she says two or three years," Barry says.

"We were apparently together a lot longer than I was aware of," Namajunas says with a laugh. "It took him a while to chip away at my cold heart, but he did."
Barry's timeline checks out with the other anecdote Rose told Joe Rogan. 2009 – a year when rose was just 17 was somewhat pivotal for their relationship and her career.
Barry is also outspoken about his demons – he has had issues with both alcohol and prescription medication. This lead to the two breaking up in 2016. But the split didn't last and the two were reunited later that same year.
But before UFC had a strawweight division, Namajunas got handpicked to be on The Ultimate Fighter – with the winner of the season getting to be the first strawweight champion in the UFC. This separation from Barry to shoot the show produced the following quote (as expressed by Barry in bleacher report):
"I had to re-learn how to talk to her. I didn't understand anything she was saying," he says. "She came back different. She grew as a person and as an athlete, as a student and as a daughter."
And Namajunas seems to have an interesting perspective on femininity. Once upon a time Namajunas did not mind the heels, the hair or the shape revealing clothing.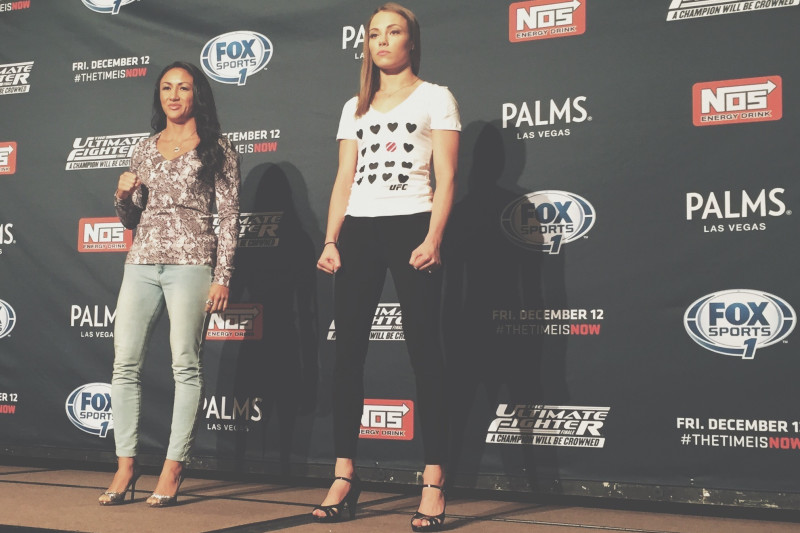 But in 2017, the UFC matched their favorite Paige Van Zant with Namajunas. Van Zant had greatly capitalized on her looks and had a very lucrative side contract with Reebok.
"Rose is the main event of a UFC fight card and everyone wants to ask her about her haircut. What does the haircut have to do with the fight? I have no idea. When it comes down to training, when it comes down to everything else, she cut it so it could be out of her way. It was a problem." Barry explained at the time.
Some fans speculated that the freshly shaved head could be an instrument to thwart USADA though that was mostly just a speculation at the time.
But Namajunas would do a full one eighty since this fight and grow into a more grungy Thug Rose styling. Of course, Namajunas is a stunner, she seems to posses star power no matter the haircut and the shape. When Rose was asked about the haircut she explained:
 "[It's] Just years and years of playing in sports, not just fighting, hair's been growing up, and being a tomboy growing up and not really wanting to have to do my hair. I don't even know how to do [my hair]. I just had to put a whole bunch of product in it. I just want to be able to wake up in the morning and feel pretty and not have to do a whole bunch of cr*p [to my hair]. It is definitely like shedding my past, being psychologically mean of my hair as well as physically, and just ripping it out."
But perhaps something more alarming, and maybe possibly slightly more annoying is that Pat seems to be a part of every major interview Rose had ever given. And sure that might be a bit overprotective, but overprotective could just be a code word for something more disturbing – controlling behavior. And really if you watched any amount of her interviews you're no doubt rolling your eyes at Pat inserting himself and talking over Rose much too often. This kind of behavior throws warning signs. Just ask Diego Sanchez.
And while bjj is reeling in its own day of reckoning, the world of MMA seems to whisper about this case and several others – cases where the power dynamic is quite obviously off and there's something just a bit suspect about the origin story. One way or another, we'll be keeping an eye out on this one. Until next time.
Since 2014, Benny A. King has been fully immersed in the world of combat sports. Starting with a blog about Greco Roman wrestling, Benny's passion for combat sports has led him to explore various disciplines.