Nickolas Robert Diaz was born on August 2, 1983, in Stockton, California. He is of Anglo and Mexican ancestry.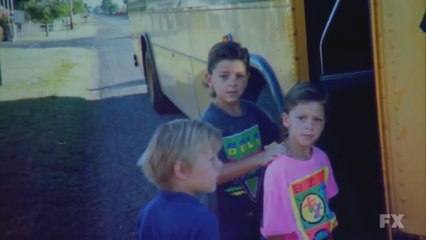 Nick grew up with a younger brother Nate and a younger sister Nina. Their mother Melissa took care of them mostly since their father wasn't around very often.
In addition to competing in wrestling matches while he was a teenager, Diaz started learning karate and aikido at an early age. Diaz studied at the Tokay High School in Lodi, California. He competed on the swim team as a freshman.
At the age of 16, Diaz began sambo training with Valeri Ignatov, the Bulgarian National Sambo Champion.
He began learning mixed martial arts at the Animal House gym under Steve Heath after witnessing Renzo Gracie compete in the Pride FC. Diaz later went on to join Cesar Gracie's squad. On May 8, 2007, Cesar Gracie awarded him a black belt in Brazilian jiu-jitsu.
Before his first professional mixed martial arts match, Diaz's then-girlfriend Stephanie had committed suicide by crossing the street in front of oncoming traffic. After she passed away, Diaz would visit her cemetery every day and promise to become a competitor she had always wished for him to be.
Diaz competed in unofficial bare-knuckle MMA contests before making his professional debut.
He became professional in mixed martial arts shortly after turning 18 in 2001. At the IFC Warriors Challenge 15, he submitted Mike Wick with a triangle choke to win his first match.
In his second professional match, Diaz defeated Chris Lytle to win the IFC Welterweight Championship at the IFC Warriors Challenge 17 in July 2002.
At UFC 47, Nick Diaz made a triumphant comeback to the octagon to face future EliteXC Middleweight Champion Robbie Lawler.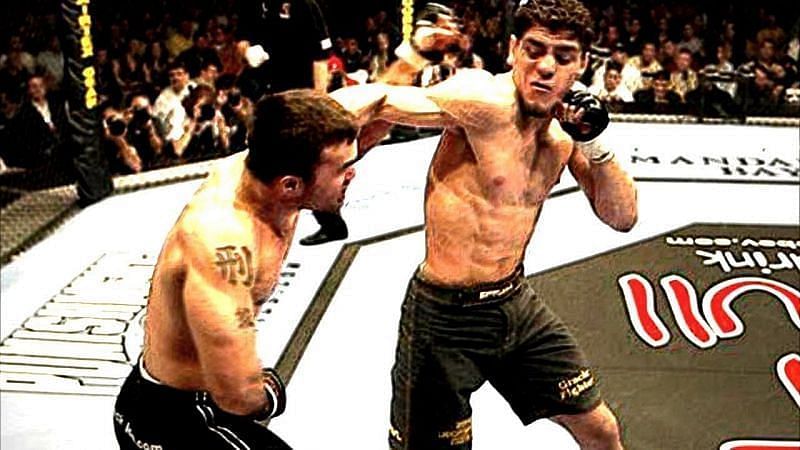 Nick Diaz ended up losing for the second time against TUF middleweight winner Diego Sanchez via unanimous decision.
His next match was against Joe Riggs at UFC 57. Diaz made sure that he mocked Riggs often before their bout began, similar to how he treated Sanchez. Riggs won the match by majority decision, handing Diaz his second consecutive defeat.
Diaz went back to Stockton for the International CF Organization's first event. There he defeated Ray Steinbeiss by unanimous decision.
Diaz unexpectedly got a call from the UFC the night before the match asking him to stand in for an injured Thiago Alves at UFC 62. Therefore, he was scheduled to compete in his hometown once again against Canadian John Alessio.
Diaz competed against Josh Neer and ended up winning the match via submission in the third round.
After this, Diaz chose to sign with the Gracie FC and quit the UFC.
The PRIDE FC signed Diaz to a two-bout contract. His first bout was set in Las Vegas against Lightweight Champion Takanori Gomi in a non-title contest. Diaz ended up winning the match via submission in the second round.
The Nevada State Athletic Commission said in April 2007 that Diaz had failed the PED test that was taken just before his victory against Gomi. It had tested positive for mari***na metabolites. The NSAC ruled the match a "No Contest" and suspended him for six months with a fine equal to 20% of the $3,00 he earned from the bout with Gomi.
Diaz made his EliteXC debut on Showtime in Hawaii on September 15, 2007. Mike Aina was his opponent, and he won the match in a close split decision.
He then competed against Noons for the vacant 160 pound title but was unable to secure a victory.
Nick Diaz then went up against Thomas Denny. Diaz dominated Denny in the second part of the opening round after a slow start to the match. Diaz successfully knocked out Denny and ended up winning the match.
Strikeforce CEO Scott Coker at that time said that Nick will square off against MMA icon Frank Shamrock at Catchweight of 179 pounds at their forthcoming event. Nick won the match, stopping Shamrock in the second round by TKO due to blows.
At DREAM 14, Diaz submitted former PRIDE veteran Hayato Sakurai with an armbar in a non-title match.
At Strikeforce: Diaz vs Daley, Diaz beat English boxer Paul Daley by TKO (punches) in the first round. He became the first Strikeforce competitor to successfully defend the Strikeforce Welterweight Champion three times.
A match between Diaz and UFC Welterweight Champion Georges St-Pierre was mentioned by UFC president Dana White as a potential option. White subsequently announced on Twitter that Diaz and St-Pierre will be taking place in UFC 137 at the Mandalay Bay Event Centre in Las Vegas, Nevada.
Prior to his match with Georges St-Pierre, Nick Diaz gave up the Strikeforce Welterweight Championship. Due to Diaz missing many flights for a press event to promote the bout, Dana White decided to remove Diaz from the match.
After the incident, Nick Diaz and B.J. Penn were scheduled for a match. Diaz ended up winning the match via unanimous decision.
In March 2013, Diaz competed against Georges St-Pierre for the UFC Welterweight Championship at UFC 158. He was defeated via unanimous decisions in the match.
Diaz made a comeback to face Robbie Lawler in a rematch at UFC 266 in September 2021. He finally returned after a lengthy absence in 2015.
The middleweight match was a unique five-round matchup without a championship or main event. Diaz was knocked down with punches in round three after a back-and-forth match, but he was given a chance to get back up. Diaz remained on the ground and publicly conceded, suffering a TKO defeat.
Together with his brother Nate, Nick Diaz is presently teaching Brazilian jiu-jitsu in Lodi, California.
The Diaz brothers are both supporters of marijuana. Also, they have been vegans for a long time.
Diaz can be seen in the 2013 feature-length documentary 'Fight Life.' It was directed by independent filmmaker James Z. Feng and received the United Film Festival's Best Documentary Award. The documentary follows the lives of mixed martial artists outside of the ring.
It was revealed in 2023 that Diaz has a role in Jean-Claude Van Damme's movie 'Darkness of Man'.
Diaz founded the MMA promotion WAR MMA on June 22, 2013. The first contest was held on June 22 in Stockton, California.
Nick Diaz received his black belt in Brazilian jiu-jitsu under Cesar Gracie, with whom he has trained since he was a youngster. His victories include the Pan-American Brown Belt Medium Weight Division crown in 2005 and the US Purple Belt Open in 2004.
Diaz has also competed as a professional boxer in the Super Middleweight division. He faced Alfonso Rocha in his professional debut in April 2005. Diaz won the match by unanimous decision.
For fun, Diaz also participates in triathlons.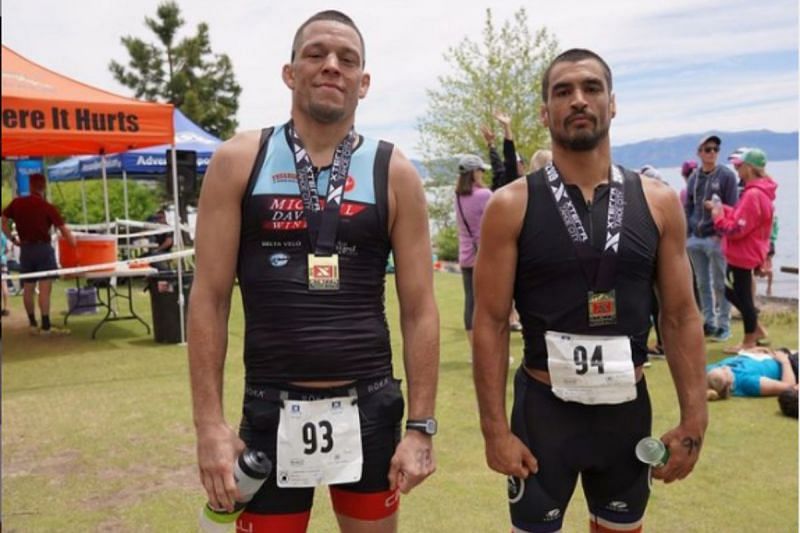 Adam Miller is a talented writer with a passion for the UFC. As a UFC writer for Calfkicker, he's found a way to combine his love for the sport with his gift for words. With a diploma in journalism and mass communication, Adam has a deep understanding of how to craft compelling content that resonates with readers.
Before finding his niche in the world of UFC writing, Adam worked as a freelance link builder and content writer. His diverse range of clients and businesses allowed him to hone his craft and develop a unique perspective that sets him apart from other writers in the field.