Lauren Murphy's battered face after her outing against Jessica Andrade at UFC 283 has everyone talking about the worst disfigurements in UFC history. But because MMA is such a violent sport, there are many contenders to consider. 
10. Mark Hominick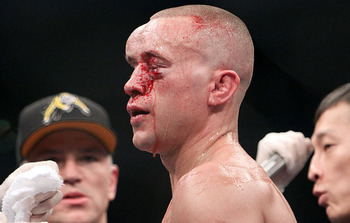 We begin with Mark Hominick's hematoma above his right eye, which Joe Rogan called "a second head". 
It happened thanks to a punch followed by a forearm strike from the now UFC Hall of Famer Jose Aldo at UFC 129. 
The ref momentarily stopped the bout to let the ringside doctor have a look at the swelling. 
After being given the green light, Hominick soldiered on and he got a cut beneath his other eye as well. He lost on points but gained the respect of his hometown crowd. 
9. Donald Cerrone
"Cowboy" Cerrone competed against prime Tony Ferguson at UFC 238. However, the bout had to be stopped when Cerrone made the mistake of trying to blow his freshly-broken nose. 
Cowboy's face was completely battered. In fact, his right eye eventually went shut due to the swelling and he was unable to open it. 
Thankfully, the referee stopped the bout after the doctor's advice and saved Cowboy from any further damage, giving Ferguson the TKO win. 
8. Marcus Davis
Marcus Davis and Nate Diaz dueled at UFC 118 in quite an entertaining event. The two went back-and-forth with the exchanges but then Diaz started connecting more accurately. 
Davis's eye started to swell up from all the hits and he began reeling due to it. He was eventually submitted by a guillotine choke by Diaz, almost a minute remaining in the bout. 
This was the first bout on the main card at UFC 118, yet it overshadowed all the others and won FoTN. However, Davis's injury is still one of the most gruesome images in the UFC. 
7. Marvin Eastman
Marvin Eastman is a true journeyman in MMA, having competed for many of the big promotions during his time. Eastman's bouts in the UFC were very unpleasant though, especially his first one against Vitor Belfort at UFC 43.
The "Animal", who was juiced to the gills, made short work of Eastman, finishing him off with knees and punches in just over a minute. The resulting cut on his face makes it look like Eatman has a third eyebrow. 
At the time it happened, it was described as the largest cut in MMA.
6. Gregory Rodrigues
Gregory Rodrigues competed Chidi Njokuani at UFC on ESPN+ 68 a couple of months ago. Their bout saw one of the most disturbing injuries, along with one of the best comebacks in the sport's history. 
Njokuani delivered a spectacular knee strike that busted "RoboCop" open in the first round. However, the Brazilian kept on fighting and turned the fight around with a flurry of punches.
Rodrigues won via decision however the impact from the kick actually exposed an artery running through his forehead. He was heavily lauded for his determination in getting the W.
Read more:
Since 2014, Benny A. King has been fully immersed in the world of combat sports. Starting with a blog about Greco Roman wrestling, Benny's passion for combat sports has led him to explore various disciplines.