Nathan Donald Diaz was born on April 16, 1985, in Stockton, California. His parents were Robert Diaz and Melissa Diaz.
Nick grew up in California with his brother Nick and sister Nina. He went to Tokay High School and started learning martial arts with his brother Nick when he was 11 years old.
Before starting out his professional combat sports career, Nick Diaz engaged in a bare-knuckle MMA match against Robert Limon in July 2002. This is thought to be his first exposure to competition.
After making his MMA debut, Diaz participated in the World Extreme Cagefighting. He competed against Hermes França at WEC 24 in 2006, the current WEC Lightweight Champion. However, Diaz was defeated via submission in the second round.
Diaz then appeared on The Ultimate Fighter 5, which featured only lightweight combatants. He competed for Jens Pulver's squad. In the first round, Diaz beat Rob Emerson.
In the finals, he competed against Manvel Gamburyan. Gamburyan was forced to submit out in the second round after inadvertently dislocating his right shoulder while attempting a takedown, giving Diaz the victory through submission. Diaz ended up winning the TUF 5.
At UFC Fight Night 13, Diaz was scheduled to compete against Kurt Pellegrino. In round two, Diaz submitted Pellegrino with a triangle choke. He then flexed for the fans and raised two middle fingers before Pellegrino gave in as the choke was secured.
At UFC 94: St. Pierre vs. Penn 2, Diaz faced former Strikeforce Lightweight Champion Clay Guida and lost by split decision. Guida repeatedly knocked Diaz to the ground by using his wrestling. This was also Diaz's first loss in the UFC.
At TUF 9 Finale, Diaz crossed paths with fellow TUF winner and former King of the Cage Welterweight Champion Joe Stevenson. In all three rounds, Stevenson brought down Diaz. He ended up losing the match via unanimous decision.
In March 2010 at UFC 111, Diaz made his welterweight debut against Rory Markham. Markham came in at 177 pounds, while Diaz came in at the welterweight limit of 171 pounds. As a result, the bout was converted to a catchweight contest. Diaz eventually won the bout by first-round TKO.
Diaz said he would participate in both weight divisions after defeating Markham. In August 2010 at UFC 118, he competed against Marcus Davis at Welterweight. In the final round, Diaz submitted Davis by guillotine choke submission.
At UFC 125 in January 2011, Diaz competed against South Korean combatant Dong Hyun Kim. He ended up losing the match via unanimous decision.
In September 2011 at UFC 135, Diaz beat Takanori Gomi by armbar submission in the first round. He received the Submission of the Night award for his performance.
Diaz then defeated Donald Cerrone at UFC 141 by unanimous decision (30-27, 30-27, and 29-28). The contest was named Fight of the Night for both fighters.
In 2012, Cesar Gracie awarded Diaz his black belt in Brazilian jiu-jitsu after numerous years of training.
In December 2012, Diaz and Benson Henderson squared off for the UFC Lightweight Championship at UFC on Fox 5. Diaz was defeated by a unanimous decision in the one-sided matchup.
On April 13, Diaz competed against former Strikeforce Lightweight Champion Josh Thomson at UFC on Fox 7. He lost the match via TKO. Nate's brother Nick Diaz attempted to alert the referee to call time on the match by throwing to signal the end of the match.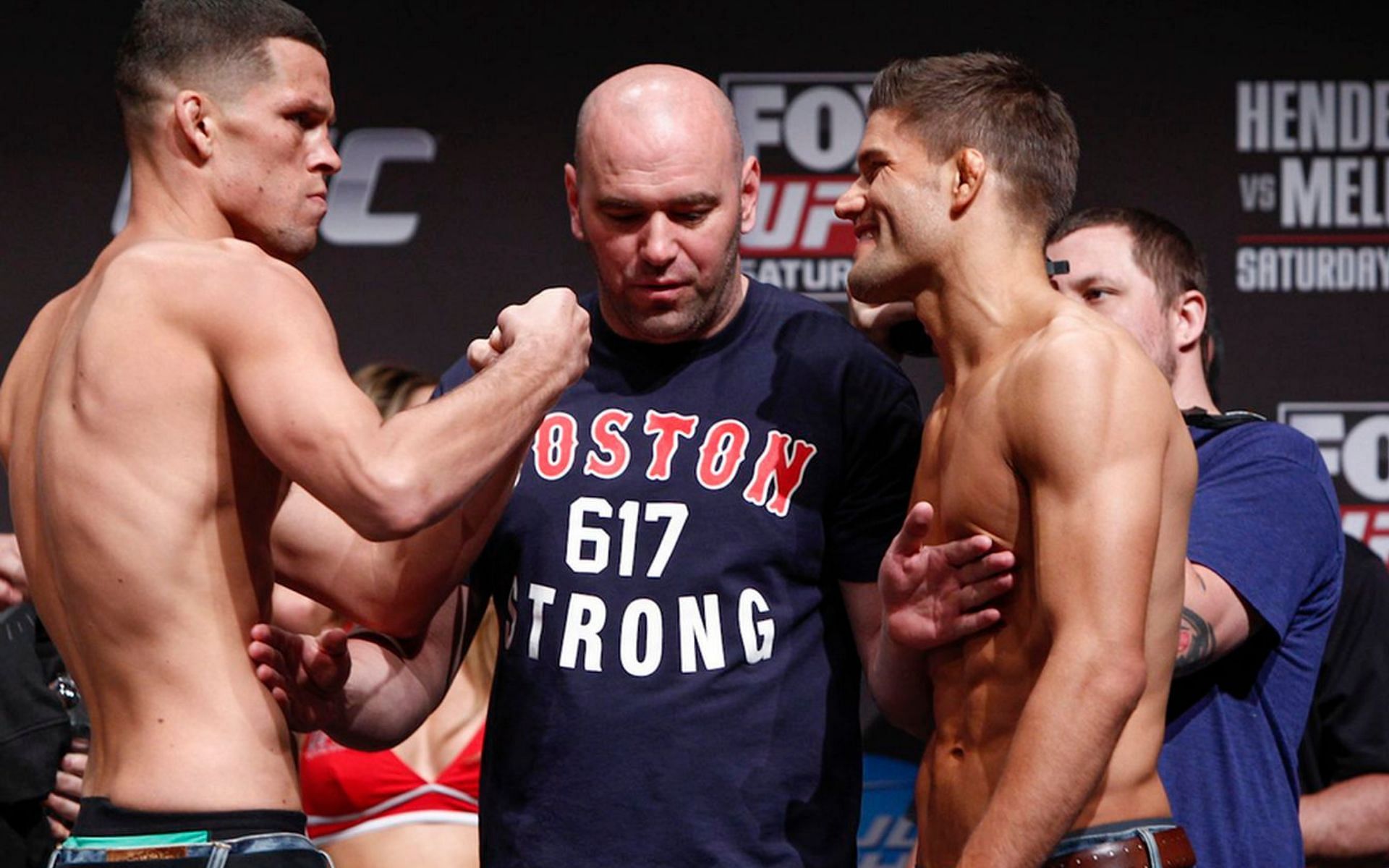 In May 013, the UFC banned Diaz for using a homophobic slur on his Twitter feed, which was a violation of the UFC's code of conduct. The UFC voiced their displeasure, and he was given a 90-day suspension and fined $20,000.
In May 2014, Nate Diaz and T. J. Grant were both dropped from the lightweight rankings after the UFC considered them inactive.
In December 2014 at UFC on Fox 13, Diaz made a comeback from his self-imposed break and took on Rafael Dos Anjos. Diaz weighed in at 160.6 pounds, missing weight. Diaz seemed uninspired and irritated for most of the match. He ended up losing the match via unanimous decision.
Diaz took on Michael Johnson at UFC on Fox 17 on December 19, 2015, after taking a break for more than a year. He ended up winning the match via unanimous decision.
In one of the most famous interviews in UFC history, Diaz called out Conor McGregor by declaring: "You're taking everything I work for, motherfucker, and I'ma fight your fucking ass Fight of the Night awards went to both contestants."
As Rafael dos Anjos was injured, Diaz was scheduled to compete against Conor McGregor in March 2016 at UFC 196. In the second round, Diaz won the match via submission.
With this win, Diaz now has nine submission victories in the UFC. The Fight of the Night award went to both competitors, while Diaz received the Performance of the Night bonus.
Diaz broke the USADA regulation during the UFC 202 press conference by using a CBD (cannabidiol) vape pen less than four hours after the bout. Since CBD is not a PED, he was not penalised. Shortly after making the regulation modification, USADA removed CBD from its list of prohibited substances.
At UFC 241, Nate Diaz made his return to action on August 17. He competed against Anthony Pettis in the co-main event welterweight match. He outclassed his opponent and won through unanimous decision.
In November 2019, Diaz and Jorge Masvidal squared off in the main event of UFC 244. In an unusual circumstance, UFC President Dana White revealed that the main event match was for a (or BMF) title. After being outmatched throughout most of the bout, Diaz was ruled unfit to continue due to a cut above his right eye that the cage-side physician said would make him unable o continue.
The co-headlining match of UFC 262 in May 2021 between Diaz and Leon Edwards was believed to be the first non-main event and non-title bout to be set for five rounds.
Edwards dominated the fight for the overwhelming majority of the time. But late in the fifth round, Diaz's strikes seriously startled him. Edwards ended up winning the match via unanimous decision.
In September 2022, Diaz was supposed to compete in UFC 279's main event against Khamzat Chimaev. This would mark the last match of his UFC contract. Chimaev came in seven and a half pounds above the welterweight non-title bout limit during the weigh-ins on September 9.
Chimaev was removed from his match with Diaz. Diaz ended up competing against Tony Ferguson as his opponent for the main contest. In the fourth round, Diaz submitted him via guillotine choke to win the bout.
Prior to his match with Ferguson, Diaz decided not to re-sign with the UFC. He wanted to become a free agent.
Diaz opted to join the boxing industry after becoming a free agent. In April 2023, it was revealed that Diaz would compete against Jake Paul in his pro boxing debut. The match is slated to take place at the American Airlines Centre in Dallas, Texas.
Nick Diaz is Nate's brother, who is a professional MMA competitor. Both Diaz brothers support legalizing mari**ana. They established a CBD business called Game Up Nutrition and presently manage Nick Diaz Academy, a Brazilian jiu-jitsu school in Stockton.
Since Nick was 18, he has largely followed a vegan diet. However, he does sometimes eat fish.
It was revealed that Diaz's girlfriend had given birth to their daughter on June 20, 2018.
The mayor of Stockton gave Diaz a key to the city at a Stockton Kings basketball game in December 2022. This was because of his success and the attention that Diaz had garnered for the city.
Adam Miller is a talented writer with a passion for the UFC. As a UFC writer for Calfkicker, he's found a way to combine his love for the sport with his gift for words. With a diploma in journalism and mass communication, Adam has a deep understanding of how to craft compelling content that resonates with readers.
Before finding his niche in the world of UFC writing, Adam worked as a freelance link builder and content writer. His diverse range of clients and businesses allowed him to hone his craft and develop a unique perspective that sets him apart from other writers in the field.