Khamzat Khizarovich Chimaev was born in the hamlet of Gvardeyskoye in present-day Chechnya, Russia. He started wrestling at the age of five.
Khamzat Chimaev has an elder brother named Artur, who is a freestyle wrestler.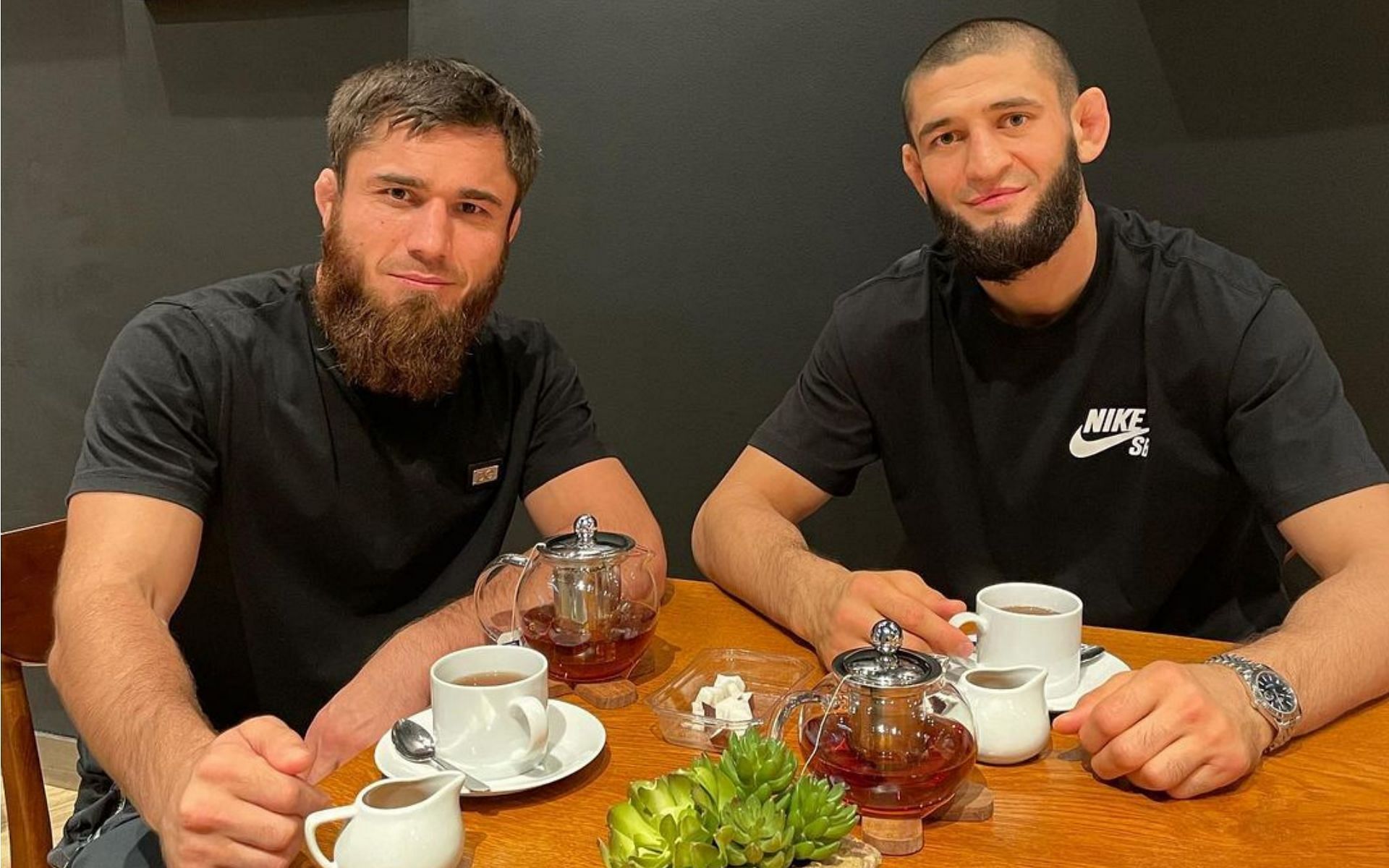 Chimaev has a distinct scar on his lips. He went down on concrete steps when he was two years old, sustaining a noticeable scar on his lip. This scar prevented him from breathing normally through one nostril.
Chimaev reportedly took home a bronze medal in the junior division at the Russian National Championships. He immigrated to Sweden with his mother in 2013 at 18, joining his elder brother.
Chimaev wrestled in many clubs after moving to Sweden, notably BK Athén. One of the top freestyle grapplers in the nation, Chimaev won the Swedish Freestyle National Championships at 86 kilogrammes in 2016 and 2017.
Chimaev has also participated in four combat sambo matches in addition to a couple judo competitions.
In November 2021, at Bulldog Fight Night 9 in Sweden, Chimaev wrestled against fellow UFC contender Jack Hermansson in freestyle wrestling. He ended up winning the match on points.
When Chimaev was 23 years old, he first began training in mixed martial arts. He works out at the Allstar Training Centre in Stockholm together with others like Reza Madadi, Ilir Latifi, and three-time UFC Light Heavyweight Championship contender Alexander Gustafsson.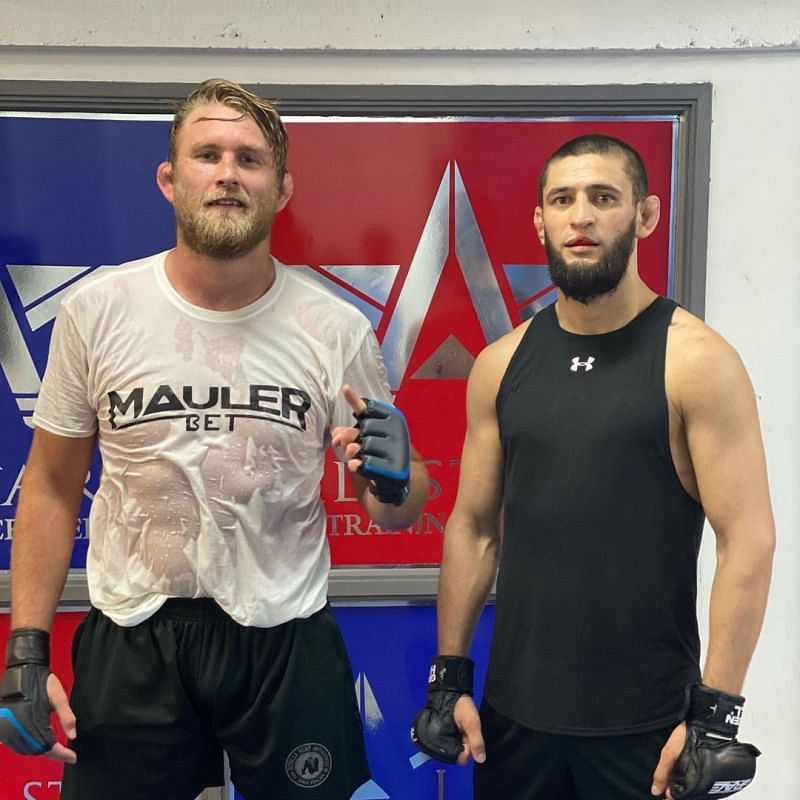 In an interview with ESPN, Chimaev said that he was motivated to begin training in MMA after taking a 15-minute break from work one evening to watch the Aldo vs McGregor main event.
"I was watching his [McGregor's] fight. I was watching him fight Aldo. I was sitting in night and was working. I was taking rest for 15 minutes and watched his fight. I always look at that like if the guys make so many money like millions and this stuff, why I can't do it now. I'm a fighter, I'm a warrior and I have something special inside me. I had to find some way and take out this to show to the people."
In May 2018, Chimaev competed in his first professional match at International Ring Fight Arena 14 against Gard Olve Sagen. He won the match in the second round via technical knockout.
Chimaev joined with Middle Eastern organisation Brave Combat Federation after competing in his first two professional bouts in Sweden. Chimaev made his debut against Marko Kisi. Chimaev dropped his opponent with a left hand in the first round to win the bout via technical knockout.
He then competed against Ikram Aliskerov in April 2019 at Brave CF 23. This match marked Chimaev's debut in the welterweight division. He won the bout via knockout after landing an uppercut in the first round. This performance earned him Brave's Knockout of the Night award.
His fourth promotional match was against Mzwandile Hlongwa in October 2019 at Brave CF 27. Chimaev ended up winning the match via submission in the second round.
Chimaev went on to sign with the UFC. He made his professional debut in July 2020 at UFC on ESPN 13. Chimaev competed in a middleweight matchup against John Phillips. He submitted Phillips in the second round and won the match. With this victory, he also earned the Performance of the Night award.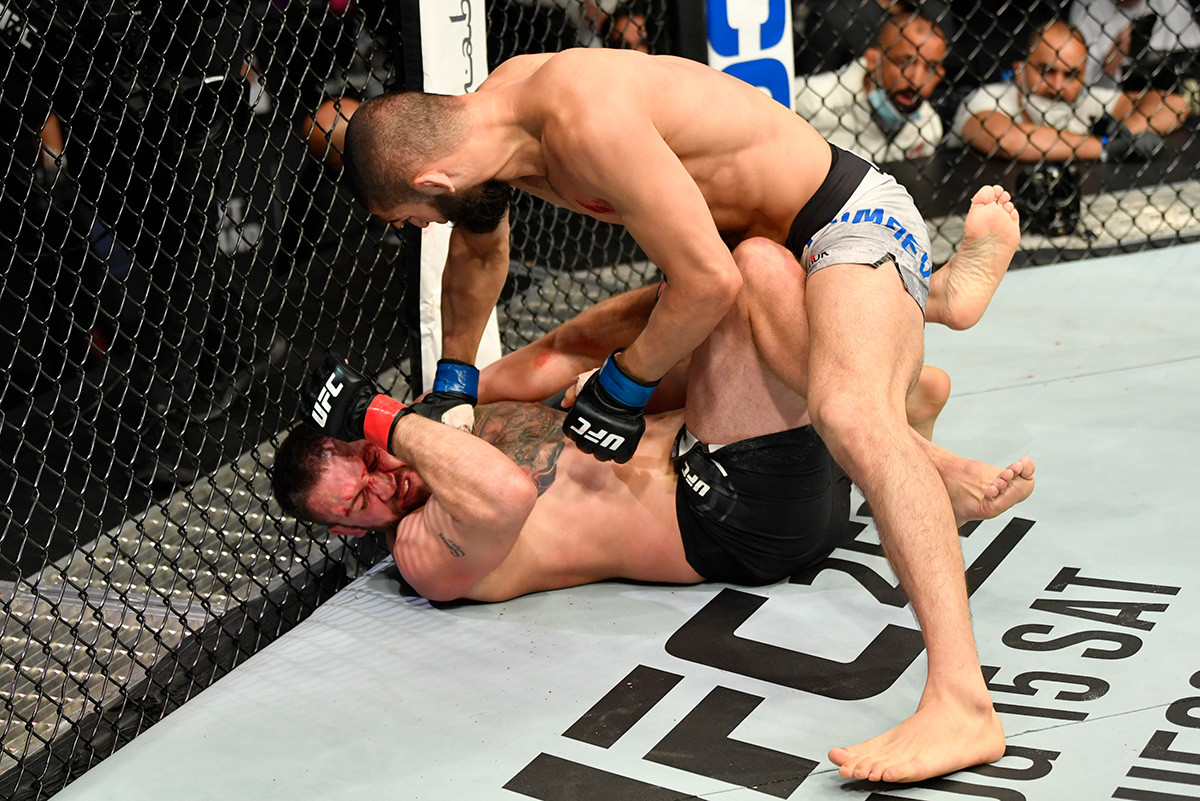 Chimaev was scheduled to compete against Gerald Meerschaert at UFC Fight Night 178 in September 2020. Within 17 seconds of the first round beginning, he knocked out Meerschaert to win the match. With this win, he set a new record for the shortest three-bout winning streak in UFC history's most recent era (66 days).
Khamzat Chimaev announced his retirement from the sport on Instagram in March 2021, citing COVID-19-related pulmonary issues. Later, Dana White said that Chimaev was not in retirement. White went on to say that Chimaev was only upset due to the side effects of prednisone for his lungs during a training session.
In October 2021, Chimaev made a comeback to take on Li Jingliang at UFC 267. By using a rear-naked choke, Chiamev rendered Jingliang unconscious in round one. He ended up winning the match via technical submission. With this, Chimaev secured his fourth consecutive Performance of the Night award.
Chimaev and Gilbert Burns squared off at UFC 273 in April 2021. Chimaev obtained his first decision victory of his career as he won the match by unanimous decision.
In September 2022, Chimaev and Nate Diaz were supposed to square off in UFC 279's main event. Chimaev exceeded the welterweight non-title bout limit by seven and a half pounds during the weigh-ins, coming in at 178.5 pounds.
Therefore, he had to compete against Kevin Holland in the co-main event at a catchweight of 180 pounds. Chimaev won the match in the first round via D'Arce choke.
Chimaev said in an interview that he trains up to five times a day in training camps when a match is coming up. When he has no upcoming bouts, he trains two to three times daily.
Khamzat Chimaev is quite close to Ramzan Kadyrov, the leader of Chechnya.
He received a Mercedes-Benz as a present from Kadyrov, which he wrecked months later.
Additionally, Chimaev was reportedly persuaded by Kadyrov to postpone his retirement in March 2021 and return to Chechnya.
Kadyrov and Chimaev have also engaged in physical conflict and participated in several picture sessions together. Due to Kadyrov's oppressive leadership over the Chechen Republic, Chechen dissidents criticised Chimaev's ongoing affiliation with him in March 2022.
Zelimkhan (Ali) and Adam are the two teenage boys of two adolescent boys of Kadyrov. Chimaev started training with them in 2022. He supported Ali for his professional MMA debut at ACA 150 in December.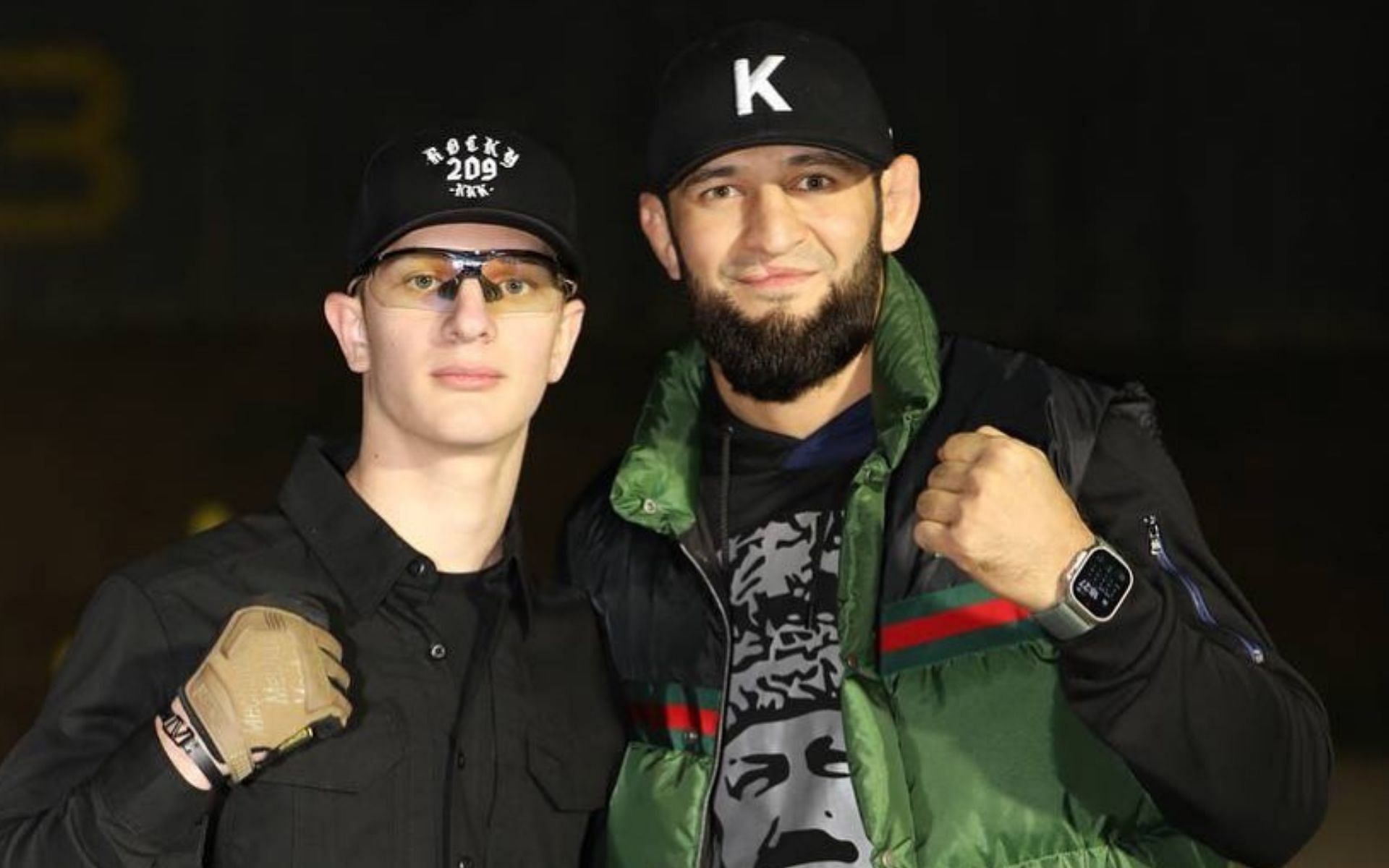 Additionally, Chimaev went to UFC 280 with Ali in Abu Dhabi. He brought Ali to Tiger Muay Thai in Thailand for training.
Chechen leader Ramzan Kadyrov also attended the wedding of Chimaev on May 21, 2022, in Chechnya.
Khamzat Chimaev is good friends with Jack Hermansson and Darren Till, two mixed martial combatants.
Currently, Chimaev is at no. 4 in the UFC middleweight rankings.
Adam Miller is a talented writer with a passion for the UFC. As a UFC writer for Calfkicker, he's found a way to combine his love for the sport with his gift for words. With a diploma in journalism and mass communication, Adam has a deep understanding of how to craft compelling content that resonates with readers.
Before finding his niche in the world of UFC writing, Adam worked as a freelance link builder and content writer. His diverse range of clients and businesses allowed him to hone his craft and develop a unique perspective that sets him apart from other writers in the field.