There was a time when Deontay Wilder was mentioned as Francis Ngannou's possible boxing debut opponent. But fate had a different plan, leading Francis Ngannou to face Tyson Fury in a closely contested split decision.
It seems like Deontay Wilder has some big plans and wants to transition into MMA. His MMA ambitions even led him to participate in PFL promotional appearances.
In a recent revelation by renowned boxing journalist Michael Benson, Deontay Wilder's UFC aspirations have come to the forefront. After facing Tyson Fury in two losses and a draw, Wilder finds himself at a pivotal moment in his boxing career.
Wilder's grip on the WBC heavyweight title has slipped, and the odds of reclaiming his former glory seem slim. According to Benson's tweet, Wilder is determined to step into the UFC arena before retiring from his combat sports journey. He has the ambitious goal of simultaneously pursuing MMA and boxing.
The boxing world hasn't witnessed a high-profile boxer attempting to transition to the UFC since James Toney's ill-fated encounter with Randy Couture. Fans have raised concerns about Wilder's slender legs, deeming them potential vulnerabilities in the octagon.
One fan even quipped about his physique, saying: "Not with them legs he won't be. He will struggle crossing over the road let alone to MMA"
Another fan speculated that a single low kick could prove disastrous for Wilder: "His legs will snap after a single decent kick"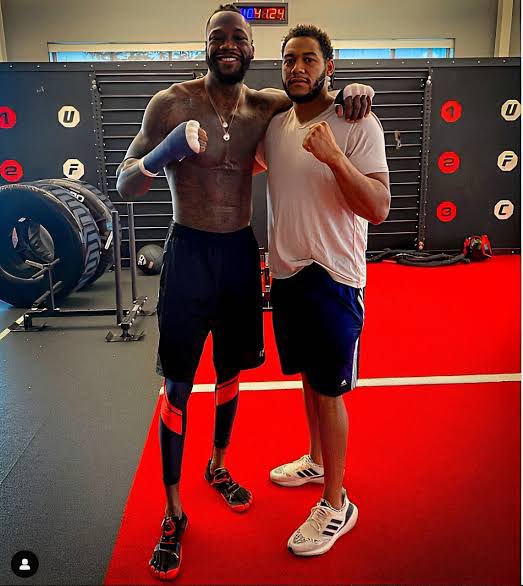 The fragility of his legs became a recurring point of discussion. Another commented: "Them bird legs would be snapped in half by a leg kick"
While Deontay Wilder sets his sights on the UFC, it's worth noting that professional boxer Holly Holm has found success within the promotion.
Holm previously had a remarkable career as a boxer and was also a multi-division world champion. In one of the biggest surprises in UFC history, she defeated Ronda Rousey to win the women's bantamweight title.