Chael Patrick Sonnen was born on April 3, 1977, in Milwaukie, Oregon.
Sonnen is Catholic and of German descent.
He started wrestling at the age of nine. Sonnen went to West Linn High School and finished second in the state.
Sonnen then started training in boxing in order to compete in the UFC after finishing high school.
Sonnen attended Brigham Young University after high school before moving to the University of Oregon in Eugene. In Oregon, Sonnen won two Dave Schultz Memorial International Greco-Roman titles, finished second twice in the PAC-10, and won a silver medal in the 2000 Greco-Roman World University Championships.
He earned a Bachelor of Science in sociology from the University of Oregon in 2001.
Sonnen has been a fan of professional wrestling his whole childhood. In the summer of 1998, he attended a tryout for World Championship Wrestling at the WCW Power Plant.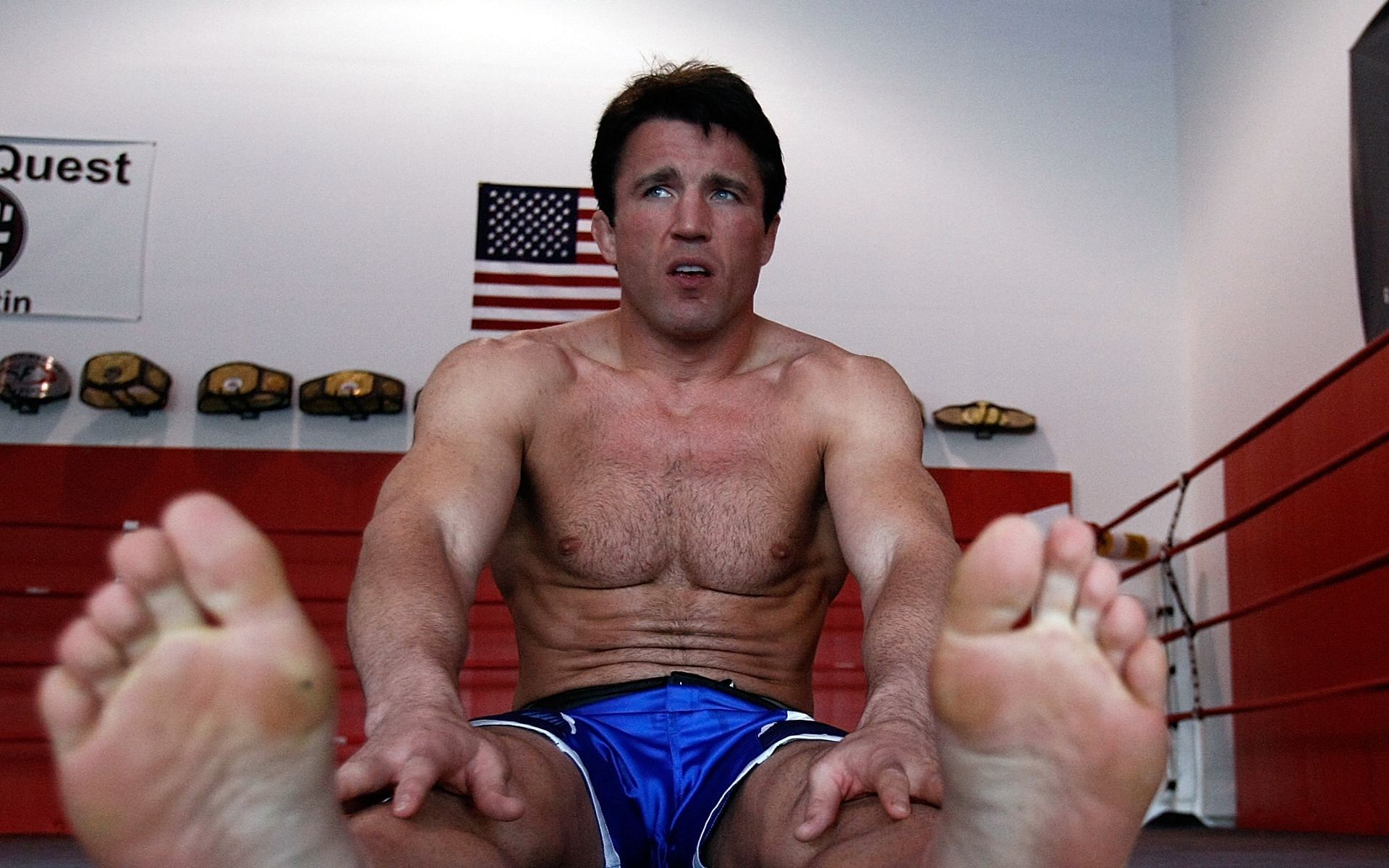 In 1997, Sonnen began his mixed martial arts at 19 years old. In his first match, he ended up winning the match over Ben Hailey in Vancouver. He was defeated by future TUF champion Forrest Griffin in late 2003 with a triangle choke submission.
At UFC 55, Sonnen faced off against former IFC Light Heavyweight Champion Renato Sobral in a Light Heavyweight matchup. He ended up losing the match via second-round triangle choke.
At UFC Ultimate Fight Night 4, he defeated Trevor Prangley by unanimous decision.
Sonnen made his Bodog Fight debut in May 2006 by KO-ing Tim Credeur. At 'SuperFight 20: Homecoming', Sonnen beat future TUF competitor Kyacey Uscola after leaving Bodog.
Paulo Filho and Sonnen squared off in December 2007 for the WEC Middleweight Championship. At 4:55 in the second round, Sonnen ended up losing the match via submission.
Sonnen faced unbeaten challenger Bryan Baker, who he outclassed for three rounds. He ended up winning the match via submission.
Sonnen rejoined the UFC when the WEC's middleweight category was eliminated.
He lost to jiu-jitsu master Demian Maia by triangle choke submission at UFC 95 in his first match for the organisation since UFC 60.
Sonnen faced Nate Marquardt at UFC 109 on February 6. Sonnen won via unanimous decision after escaping two deep guillotine chokes in the first and third rounds. With the victory, Sonnen became the number one contender for the UFC Middleweight Championship.
Sonnen competed against Anderson Silva for the UFC Middleweight Championship at UFC 117 on August 7, 2010. Sonnen made insulting remarks to promote the match, declaring he would retire Silva.
In the first round, Sonnen surprised Silva with his boxing. Then in the second, he controlled the match with his wrestling. However, Silva put Sonnen in a triangle armbar at 3:10 of the final round and forced him to submit. Both competitors received bout of the Night awards for the contest.
"There's a camaraderie that comes with this sport, but fighting Anderson Silva is a lot like eating Chinese food: twenty minutes after I do it, I'm going to want to do it again."
Sonnen made a comeback to the UFC on October 8, 2011. He defeated Brian Stann at UFC 136 with an arm triangle choke in the second round.
At UFC on Fox 2 in January, Sonnen was scheduled to compete against Mark Muoz. Since Muoz was injured, Michael Bisping took his place. After three rounds, Sonnen was declared the winner by a unanimous decision.
Sonnen confirmed he would compete against Forrest Griffin at light heavyweight in December 2012. But once Sonnen was announced as a coach for The Ultimate Fighter 17 against Light Heavyweight Champion Jon Jones, the rematch was called off.
In April 2013 at UFC 159, Sonnen and Jones squared off for the UFC Light Heavyweight Championship. Jon Jones made it plain that he did not think Sonnen was a worthy opponent by displaying a lack of excitement in the bout and downplaying it. Sonnen tried his best to pique Jones' attention during an interview, but Jones gave him the "silent treatment" by avoiding eye contact.
Jones defeated Sonnen in the first round via technical knockout, employing Sonnen's signature top control and ground and pound.
In November 2013, Sonnen and Rashad Evans squared off at UFC 167. Sonnen ended up losing the match via TKO in the first round.
In October 2013, it was revealed that Sonnen would appear as a coach against Wanderlei Silva in TUF Brazil 3. But the bout between them had to be postponed since Silva's hand was hurt during a brawl with Sonnen that happened while the event was being filmed.
Sonnen announced his retirement from MMA in June 2014 during a broadcast of UFC Tonight in response to the controversy surrounding his second failed PED test.
"You can never have the comeback if you don't have the retirement."
Due to Sonnen's repeated failures to pass PED tests, the UFC and Fox Sports confirmed in June 2014, that Sonnen's contract as a UFC analyst has been terminated.
Sonnen reportedly agreed to a deal with Bellator MMA in September 2016. In January 2017, Sonnen made his Bellator debut in the main event of Bellator 170. He competed in a light heavyweight match against former UFC Light Heavyweight Champion and UFC Hall-of-Famer Tito Ortiz. Sonnen was submitted in the first round and lost the match.
In January 2018 at Bellator 192, Sonnen competed against Quinton Jackson in the Bellator Heavyweight World Grand Prix Tournament. He won the match by unanimous decision, obtaining a takedown in each round to seal the victory.
In October 2018, at Bellator 208, Sonnen took against Fedor Emelianenko in the semifinals of the Bellator Heavyweight Grand Prix competition. He was defeated in the first round by TKO.
Sonnen competed against Lyoto Machida in June 2019 at Bellator 222. He ended up losing the match via TKO in the second round.
In the interview after the match, Sonnen declared his retirement from mixed martial arts.
"I had dreams in 2000 of being an Olympian for boxing. I never talk about it."
ESPN made the announcement that Sonnen had been recruited as an MMA analyst on November 11, 2014. Sonnen inked a contract with the World Series of Fighting in September 2015 and joined their broadcast crew starting with WSOF 23.
In 2010, Sonnen ran as the Republican nominee for the Oregon House of Representatives' 37th district.
Chael Sonnen married his partner Brittany in July 2013. In June 2015, the couple gave birth to a boy as their first child.
Sonnen acted in the following movies: Here Comes the Boom (2012) and Grudge Match (2013).
He made an appearance on the eighth season of the reality game programme 'The Celebrity Apprentice' in 2017. In the fourth episode of the programme, presenter Arnold Schwarzenegger sacked him when it became clear that he had intentionally severed his team's computer link to give them extra time.
"The only thing more embellished than Floyd Mayweather's pay-per-view buys is Floyd Mayweather's net worth. But his spending habits are real."
Adam Miller is a talented writer with a passion for the UFC. As a UFC writer for Calfkicker, he's found a way to combine his love for the sport with his gift for words. With a diploma in journalism and mass communication, Adam has a deep understanding of how to craft compelling content that resonates with readers.
Before finding his niche in the world of UFC writing, Adam worked as a freelance link builder and content writer. His diverse range of clients and businesses allowed him to hone his craft and develop a unique perspective that sets him apart from other writers in the field.