Alistair Cees Overeem, was born in Hounslow, London, England. She was born to a Jamaican father and a Dutch mother.
He relocated to the Netherlands with his mother and elder brother when he was six years old as a result of his parents' divorce. In order to protect himself from bullying as a kid, Overeem and his elder brother Valentijn began martial arts training.
He entered Chris Dolman's martial arts school at the age of 15 after Valentijn to train as a combat sports competitor. Initially disliking the sport since he was often defeated by more skilled pupils, Alistair changed his mind after meeting Bas Rutten and Joop Kasteel and began to devote himself totally to training.
At the age of 17, Overeem competed in his first professional kickboxing match under K-1 rules. The next day in March 1999, he faced off against Paul Hordijk and won by decision.
At the age of 19, Overeem competed in his first mixed martial arts match against Ricardo Fyeet. He ended up winning the match by submission.
Overeem made his debut in the Pride Fighting Championships in July 2002. He defeated Yusuke Imamura by TKO in only 44 seconds.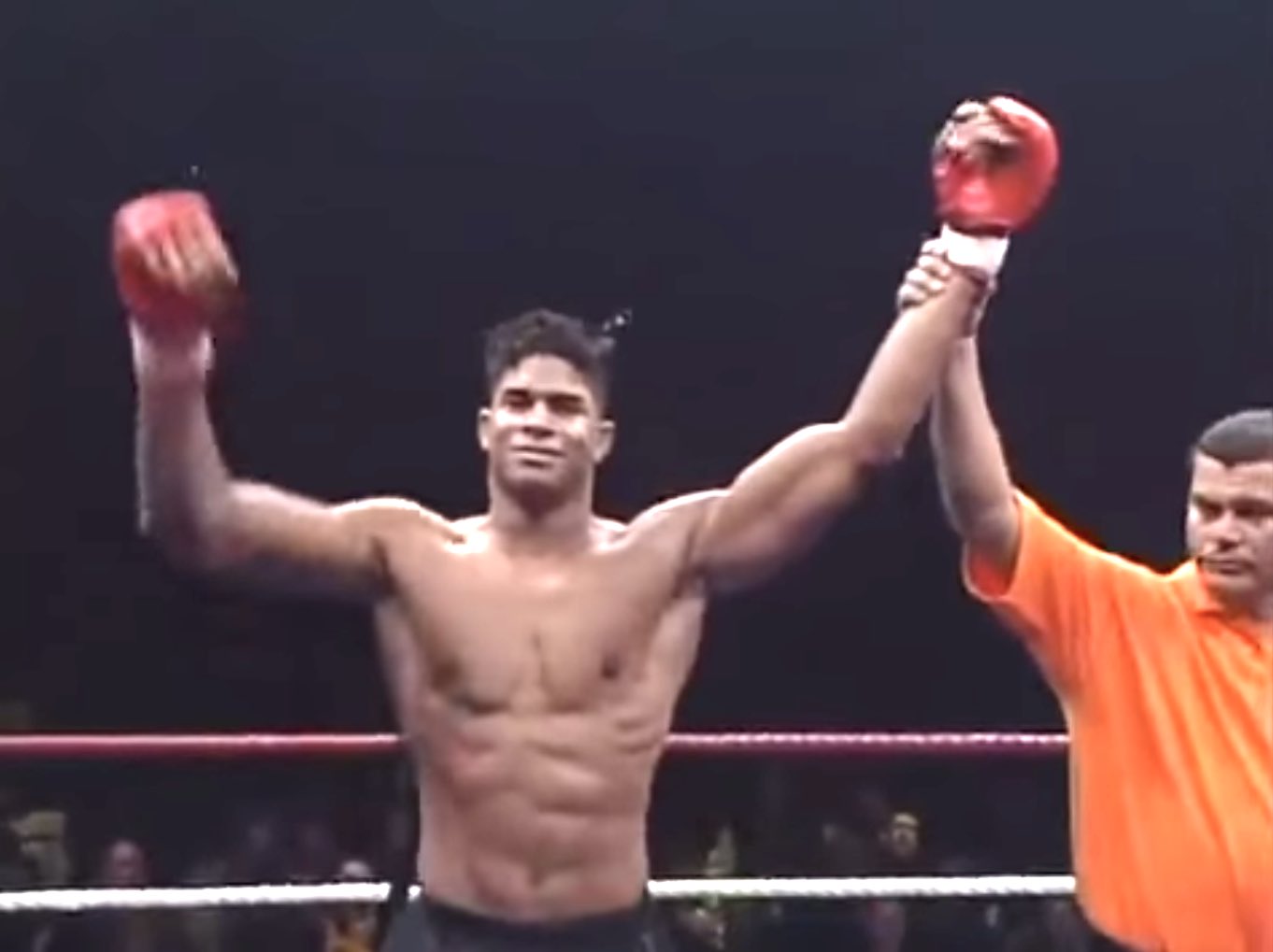 Overeem competed in the 2003 Pride Middleweight Grand Prix at Pride Total Elimination 2003. He lost to future UFC Light Heavyweight Champion Chuck Liddell in the quarterfinal bout.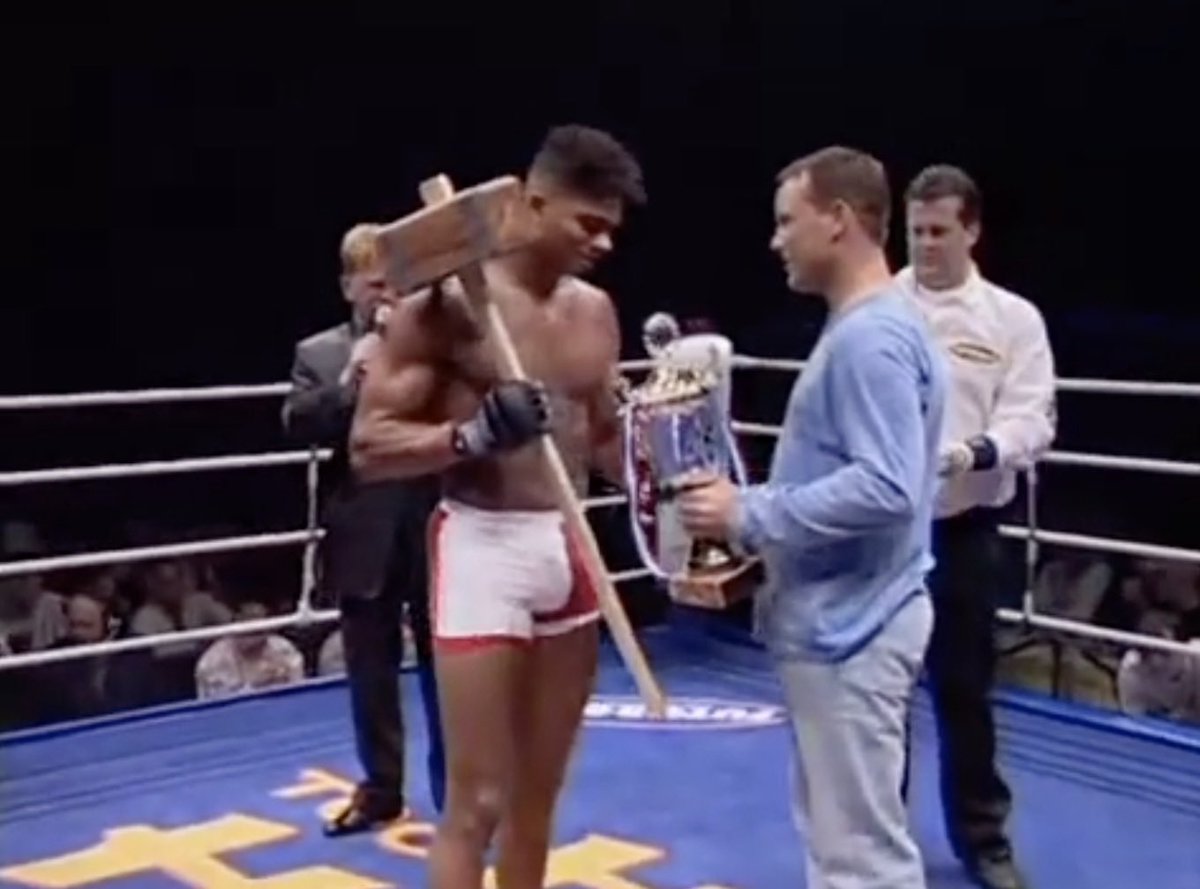 At Pride Total Elimination 2005 in, Overeem competed in the Pride Middleweight Grand Prix. He won by submission in the first round over Vitor Belfort. In the quarterfinals of the Pride Critical Countdown 2005, Overeem defeated Igor Vovchanchyn by submission in under two minutes. But he was defeated by Maurício Rua in the semifinals.
Overeem made his much awaited comeback to PRIDE for his rematch with Antônio Rogério Nogueira. After dominating the first and a half rounds with his striking, Overeem was knocked down by a blow. Nogueira immediately launched a barrage of punches. His corner threw in the towel, fearing Overeem would sustain more serious harm.
Alistair Overeem once again faced off against Sergei Kharitonov at the Hero's 10: Middleweight Tournament Final in September 2007. As soon as the first round started, Overeem displayed good mobility. But shortly before the round's finish, he lost via KO.
Overeem submitted Paul Buentello through knee strikes and went on to win the vacant Strikeforce Heavyweight Championship in November 2007. At DREAM 4 in June 2008, Overeem defeated Lee Tae-Hyun by first-round technical knockout.
At Strikeforce: Carano vs. Cyborg, Overeem was set to defend his first Strikeforce Heavyweight Championship against Fabrcio Werdum. But he was forced to withdraw due to a hand injury, most likely sustained in his nightclub brawl.
Using a standing guillotine choke, Alistair beat Tony Sylvester during Golden Glory's 10-year anniversary event.
Overeem, along with Fedor Emelianenko, Fabrcio Werdum, Sergei Kharitonov, Brett Rogers, Josh Barnett, Andrei Arlovski, Antônio Silva, and Sergei Kharitonov, were announced as the competitors for the Strikeforce Heavyweight Grand Prix in early 2011.
Overeem was dropped from the promotion's 2011 Heavyweight Grand Prix. Following his victory against Fabricio Werdum in the quarterfinals on June 18, Overeem continued by saying that he thought the September date was too soon for him to return and that he needed time to relax and recuperate. Daniel Cormier was substituted for Overeem.
Following that, it was revealed on July 29 that Overeem had been discharged from the Strikeforce organisation when Zuffa made use of their authority to revoke the last bout of his contract.
It was discovered that Overeem's dismissal from Strikeforce wasn't because he refused to compete in the Grand Prix semifinals but rather because of Golden Glory's rule mandating that boxers be paid any winnings from contests via their management first.
After considerable speculation, Overeem signed a deal with the UFC. It was announced that his first match would take place in December 2011 at UFC 141. He was scheduled to compete against former UFC Heavyweight Champion Brock Lesnar.
Overeem made his UFC debut against Brock Lesnar in the main event of UFC 141 in December 2011. Early on, Overeem repeatedly struck Lesnar in the body with knees before finishing the contest in the first round. The victory gave him the chance to compete against Junior dos Santos for the heavyweight title.
In May 2012 at UFC 146, Overeem was supposed to square off against UFC Heavyweight Champion Junior dos Santos. But in April 2012, the Nevada State Athletic Commission disclosed that Overeem had failed his PED test before the match. Overeem had a testosterone-to-epitestosterone (T/E) ratio of 14 to 1, which was higher above the permitted ratio rate of 6 to 1. UFC president Dana White announced that Overeem had been replaced by Frank Mir in his bout with dos Santos.
In a prepared statement sent to the media the day before his meeting with the NSAC, Overeem claimed that the positive test result was caused by a doctor-prescribed "anti-inflammatory medication that was mixed with testosterone."
Overeem returned to face Antônio Silva in February 2013 at UFC 156. Leading up to the match, Overeem was dismissive of Silva's skills and claimed he was better than his opponent in every aspect of MMA. Despite being a heavy betting favourite and having won rounds one and two, an overconfident Overeem lost to Silva by KO in the third round.
Overeem competed against Frank Mir at UFC 167 in February 2014. He ended up defeating Mir by unanimous decision.
In May 2016, Overeem and Andrei Arlovski squared off at UFC Fight Night 87. He won the match via TKO in the first minute of the second round.
In September 2016 at UFC 203, Overeem squared off against Stipe Miocic for the UFC Heavyweight Championship. Overeem knocked out Miocic in the first round after dropping him with a fast straight left hand.
Francis Ngannou and Overeem squared off at UFC 218. He was knocked out in the first round of the bout.
Overeem faced off against Walt Harris in May 2020 at UFC on ESPN. After being downed and almost knocked out early in the first round, Overeem continued to dominate the match with ground and pound. He finally knocked out Harris in the second round by TKO.
At UFC Fight Night 184 in February 2021, Overeem competed against Alexander Volkov. In round two, he was defeated via technical knockout.
Overeem was officially released from his UFC contract on March 3, 2021.
Overeem has signed a deal with Glory in June 2021, almost ten years after his last kickboxing match. In October 2022, Overeem and Badr Hari squared off at Glory: Collision 4. He was declared the winner by unanimous decision.
It was later discovered that Overeem tested positive for a prohibited PED in November 2022. The decision was reversed to a No-Contest after a few months when the B- Sample likewise tested positive for PEDs.
Alistair Overeem and his current fiancée had two girls (born on 27 February 2016 and August 2017). He also has a daughter born on October 17, 2006.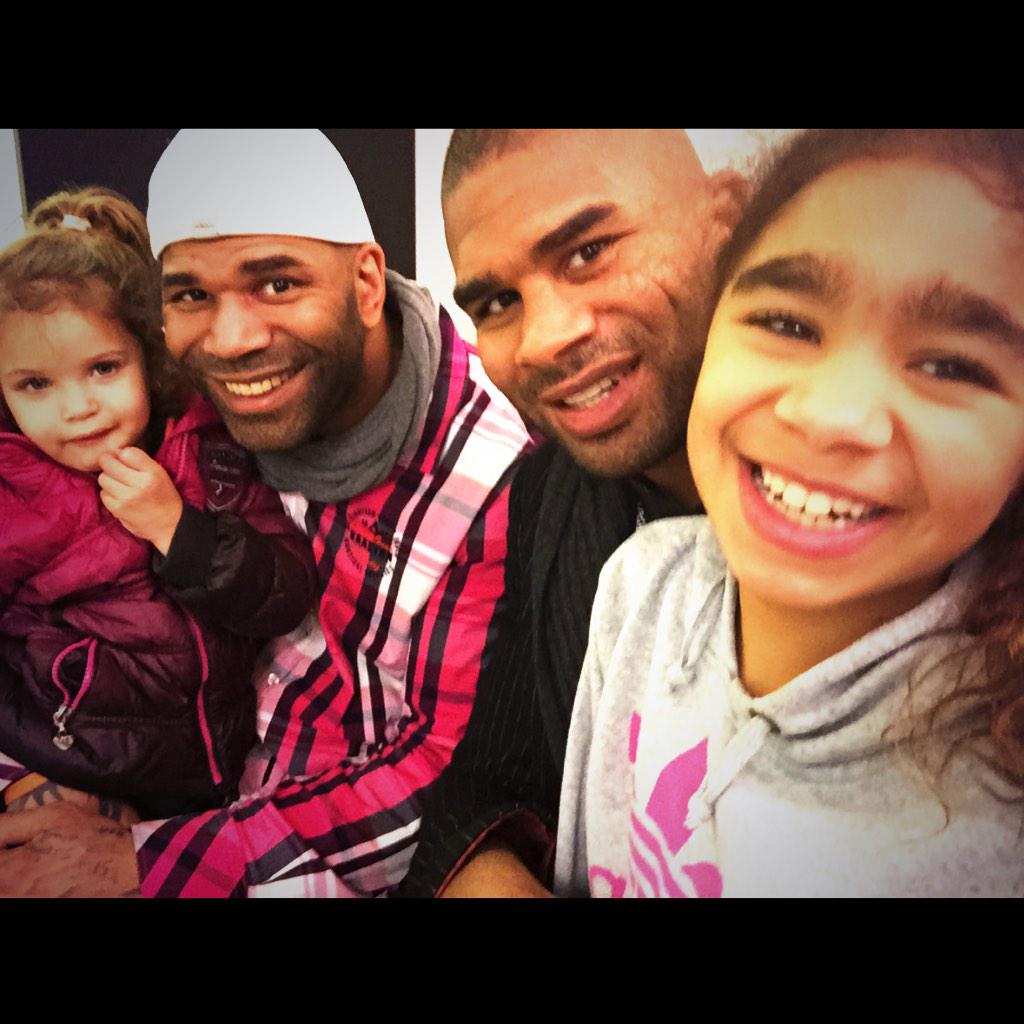 The music video for LMFAO's hit song 'Sexy and I Know It' has a cameo by Overeem.
At a Dutch dance club in 2009, Alistair and his brother got into a brawl. When Alistair ran out of money to give to the bathroom attendant and was ordered to leave by five other security personnel, he got into an argument with a bouncer. When Valentijn stepped in to save him, he was struck in the face with a flashlight. This ended up sparking a brawl.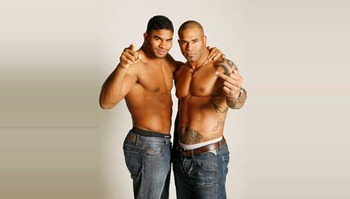 Alistair was forced to decline a championship bout due to a hand injury sustained in the altercation. Additionally, five bouncers had to be taken promptly to the hospital as a result of the event.