Former UFC welterweight champion Kamaru Usman revealed something interesting recently.
Usman engaged in a playful banter session with stand-up comedian Andrew Schulz and revealed why he took a razor to his trademark hair.
Kamaru Usman is hailed as one of the UFC's all-time greats. He recently faced a setback in his illustrious career. His 19-win streak and five successful title defenses came to an end when Leon Edwards delivered a devastating head kick, resulting in a knockout last year. Despite a subsequent rematch with Edwards, ending in a majority decision loss, Usman continued to showcase his resilience.
During his stay in Abu Dhabi following a bout against Khamzat Chimaev, Usman crossed paths with stand-up comedian Andrew Schulz. The meeting turned into a lighthearted exchange of insults, with Usman, at one point, playfully questioning Schulz's distinctive haircut.
Inquiring about Schulz's unconventional hairstyle, Usman asked, "Real talk though. Real talk. Who decided on the haircut?" Schulz revealed that the haircut originated as a requirement for a movie role but garnered unexpected attention and became a permanent style due to the internet's humorous reactions.
The banter continued as Schulz redirected the conversation to Usman's hairline, which had become the subject of a meme due to its distinctive nature. The duo shared a comical moment recalling a scene before UFC 261 in 2021 when Usman, facing Jorge Masvidal, decided to address the ongoing jokes about his hairline.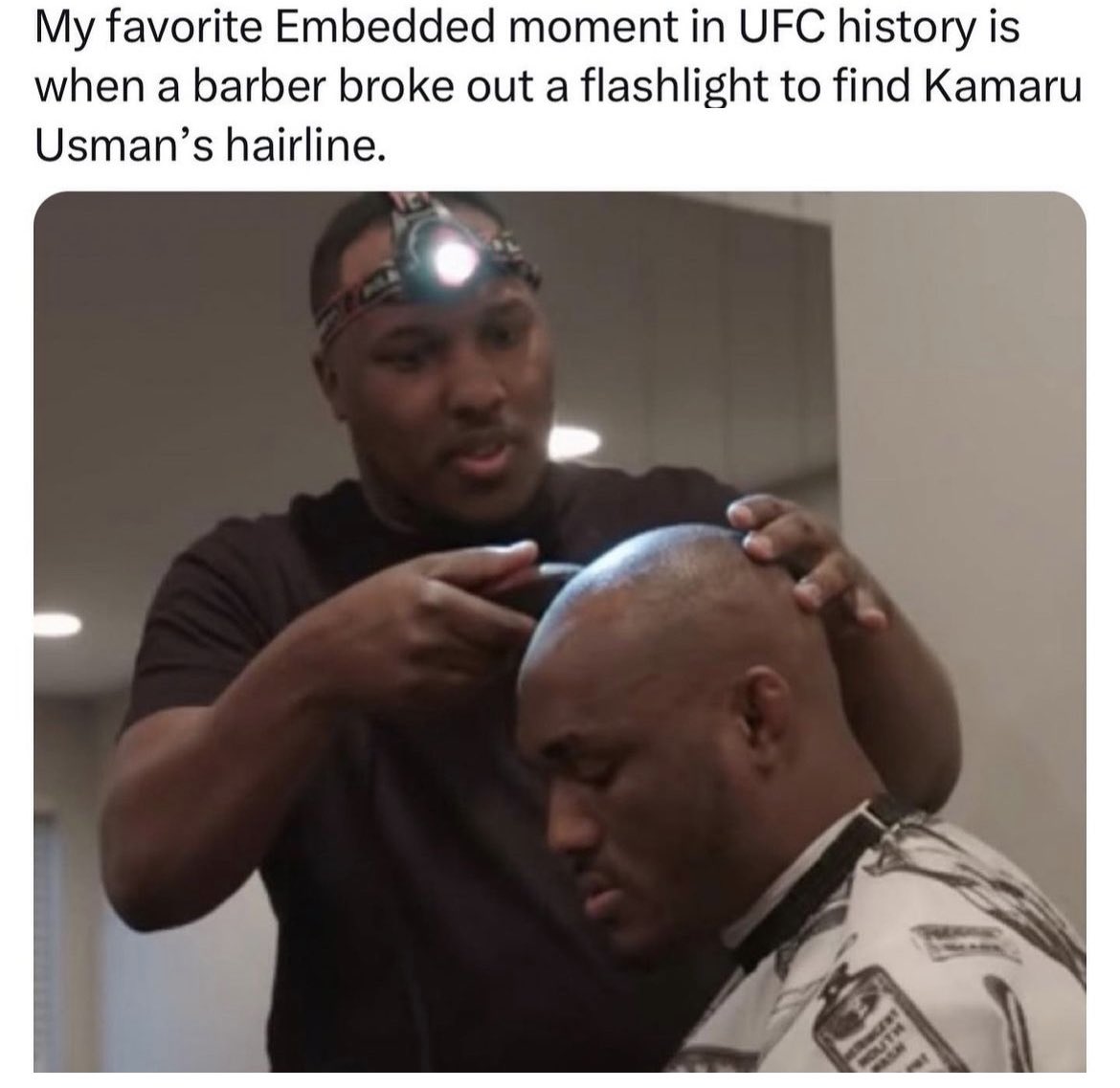 In a memorable scene from UFC 261 Embedded, Usman opted for a radical change, completely shaving his head. The accompanying barber, armed with a head flashlight, humorously focused on the task at hand. Usman, addressing the camera during the process, revealed his motivation, stating, "We're taking it all off since people want to talk sh*t about the hairline. Guess what? I'm going bald. What y'all got to say now?"
As the viral meme fades away, Kamaru Usman stands undeterred, making a bold statement with his new look.