Michael Joseph Perry was born on September 15, 1991, in Flint, Michigan.
He travelled around to several schools between Michigan and Florida for most of his life. He said, "(In Michigan) I was one of maybe 10 white kids in the whole school, so I was bullied a lot. It was the same thing at other schools. I wouldn't back down, so I would get into fights."
His instability led him down a road of d**g usage, house arrest, and going to prison. Perry began to learn boxing at the age of 11.
He obtained employment as a trainer at a UFC gym in Winter Springs, Florida, after being released from prison for burglary. His career as a boxer was sparked by his employment as a trainer.
In September 2014, Perry made his professional debut after competing in 11 amateur contests. His record at the time was 8-3.
Perry competed for a number of local promotions around the country. He competed nine times in less than two years, eliminating every opponent by KO or TKO.
In August 2016, at UFC 202, Perry made his UFC debut against Lim Hyun-gyu when Sultan Aliev withdrew due to injury. He pretended to shake Lim's hand at the official weigh-ins and then put them up. Perry then went on to say: "You thought you had a friend, boy!"
During the match, Perry dropped Lim twice with right punches and then dropped him again with a left hook. Perry followed up with ground and pound, and then the referee stepped in to stop the fight. Perry ended up winning the match via TKO in the first round.
In October 2016, Perry and Danny Roberts squared off at UFC 204. During the ceremonial weigh-ins, Perry bit into a chocolate bar and threatened to eat Roberts alive. Perry went on to defeat Danny Roberts in the third round via KO.
In December 2016, Perry and Alan Jouban squared off at UFC on Fox 22. He lost the match via unanimous decision.
At UFC Fight Night 108 in April 2017, Perry squared off against Jake Ellenberger. Perry dropped Ellenberger with a left hook early in round two and ended him with a standing elbow from the clinch 30 seconds later. He won the match via KO in the second round. Perry also received a $50,000 Performance of the Night bonus.
In December 2017, Perry and Santiago Ponzinibbio squared off on UFC on Fox: Lawler vs. dos Anjos. He was defeated in the match via unanimous decision.
In February 2018, Perry competed against Max Griffin at UFC on Fox: Emmett vs. Stephens. He lost the match via unanimous decision.
In November 2018, Perry and Donald Cerrone squared off at UFC Fight Night 139. Perry was defeated via submission after being placed in an armbar in the first round. This was the first time he had been submitted to a professional mixed martial arts match.
In December 2019 at UFC 245, Perry competed against Geoff Neal. He ended up losing the match via technical knockout in the first round.
A grappling match between Perry and Al Iaquinta took place at Chael Sonnen's Submission Underground 11 event on February 23, 2020. By having the quickest escape time, Perry ended up winning the match.
In April 2021, Mike Perry and Daniel Rodriguez squared up at UFC on ABC 2. Perry lost the match via unanimous decision.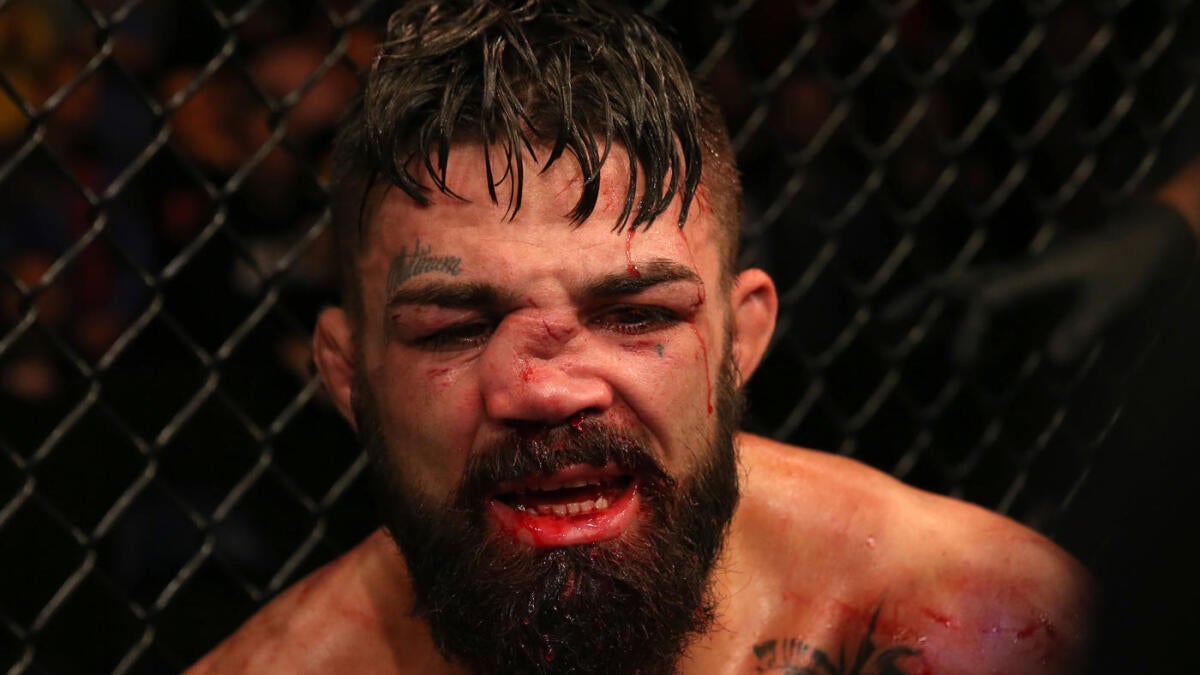 Mike Perry inked a deal with Bare Knuckle Fighting Championship when his UFC contract ended.
In November 2021, boxer Michael Seals and Perry faced off in a Triller-promoted boxing vs. MMA night. The two competitors used MMA gloves rather than regular boxing gloves. Perry won the match via split decision.
In February 2022, Perry faced Julian Lane in his Middleweight debut for the Bare Knuckle Fighting Championship: Knucklemania 2. Perry defeated Lane by unanimous decision after knocking him out in the first round.
In August 2022, Perry competed against Bellator MMA veteran Michael Page. The two competed in the main event of Bare Knuckle Fighting Championship 27: London. After the first five rounds were split draws, Perry won the sixth round via majority decision.
In April 2023, Perry competed against former UFC Middleweight Champion Luke Rockhold in the main event of Bare Knuckle Fighting Championship 41: Colorado. Perry ended up winning the match via technical knockout.
After five years of dating, Perry wed professional tennis player Danielle Nickerson in 2019. However, the couple split up in 2020.
Perry is now dating his girlfriend, Latory Gonzalez. She is often found shouting and cheering him on during his matches. The couple had their first son Ocean on January 6, 2021.
Perry was criticized for using racial slurs when he posted a video on social media claiming that he had a DNA test that showed he had 2% African heritage. Perry was then criticized for using the "n-word" in a derogatory manner in the video. In response to criticism from fans and other mixed martial artists, Perry publicly apologized for using the word. He said that he would never do that again and wanted to establish a better example for his kid.
Adam Miller is a talented writer with a passion for the UFC. As a UFC writer for Calfkicker, he's found a way to combine his love for the sport with his gift for words. With a diploma in journalism and mass communication, Adam has a deep understanding of how to craft compelling content that resonates with readers.
Before finding his niche in the world of UFC writing, Adam worked as a freelance link builder and content writer. His diverse range of clients and businesses allowed him to hone his craft and develop a unique perspective that sets him apart from other writers in the field.