Conor McGregor's stardom eclipsed his MMA career – and in many ways to sport of Mixed Martial arts. The freshly minted 190lbs McGregor has been hell raising daily on twitter as of late – but this latest clip of him upsetting his fanbase comes from instagram.
McGregor sparked tremendous backlash when he shared a clip of himself rapping to Notorious BIG on instagram and using the n word.
In spite of negative comments en masse – McGregor has yet to remove the problematic clip from his feed.
View this post on Instagram
Just in case the clip were to get lost – here's a backup:
i wish i was making this up pic.twitter.com/4V7mulN5th

— the doomslayer ☿ ⚨ ☿ (@doomunleashed) December 21, 2021
At the time of this posting the clip has amounted over 780k likes on the social media platform.
This is by no means a first – in August of 2021 Tyson Fury was involved in an eerily similar scenario when he was rapping along to the Very same song during his 32nd birthday party.
Why Tyson Fury whole house Heavy on the "N" word Like that'? ? even the baby pic.twitter.com/qHAB6xaxGA

— Devils Grandson (@Tsu_Surf) October 11, 2021
This isn't the first time McGregor has had to defend being called a racist. In 2015 McGregor said his opponent is "from the favelas," referring to shantytowns that formerly enslaved Africans formed on the outskirts of Brazilian cities in the 19th Century.
"When I'm done," McGregor added, "I'm going to turn his favela into a Reebok sweatshop."
He backed up these comments on a different media tour stop:
"If this was a different time, I would invade his favela on horseback and kill anyone that was not fit to work."
At the time the comments were dismissed as McGregor's trademark trashtalk.
Yet McGregor crossed the line again having told Mayweather: "dance for me, boy."
McGregor also often makes discriminatory jabs targeted at his nemesis Khabib Nurmagomedov. The troubled Irish sports star often goes on tweet and delete rants targeting Nurmagomedov with comments such as inbred and referring to his wife as "a towel"
At one point he professed his astonishment that anyone could believe he holds racist views towards African-Americans.
"I mean, how could you say that: why look at me, for f**k's sake. I'm comin' out here rappin' bleedin' Biggie. I'm givin' respect. I'm engaging with the culture – I put on Jay's album . . . I've a big respect for the culture. All I listen to is rap."
There was also this response: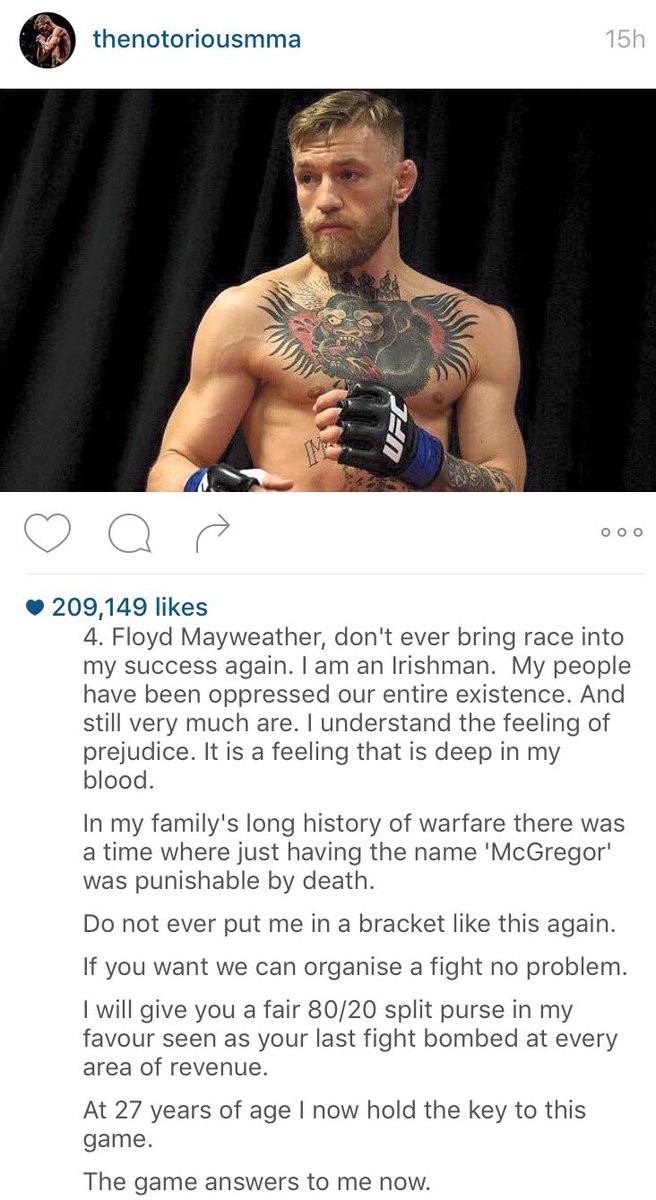 Since 2014, Benny A. King has been fully immersed in the world of combat sports. Starting with a blog about Greco Roman wrestling, Benny's passion for combat sports has led him to explore various disciplines.