Darren Jake Till was born in Liverpool on December 24, 1992.
As a kid, Till would frequently get into brawls. He started Muay Thai training when he was 12 years old.
At the age of 14, he dropped out of high school to devote himself to the sport.
A year later, he became professional. Then at the age of 17, he started training in mixed martial arts with Team Kaobon.
After an altercation he had with his mother, he spent his adolescent years living in various places- including his gym and relatives' homes.
Till's coach Colin Heron suggested that he leave his hometown and train with an ex-Team Kaobon coach in Brazil. Despite his little grappling knowledge and inability to speak Portuguese, he joined Astra Fight Team in Balneário Cambori.
Till initially intended to remain in South America for six months but ended up staying for three and a half years. He ended up having a daughter in Brazil with his girlfriend.
Darren Till went back to England in late 2016 to meet up with Heron at Team Kaobon. Meanwhile, both his daughter and his ex-girlfriend continued to live in Brazil. Till said in an interview in 2018 that he hadn't seen his daughter in over a year.
Till trained with Astra Fight Team in Brazil for most of his early MMA career. He was successful as an amateur in England, going 3-0.
Before entering the UFC, Till fought in 11 bouts in Brazil and one in Argentina. Before switching to the welterweight division in late 2014, he engaged in eight middleweight matches in 2013.
At UFC Fight Night 67 in May 2015, Till made his UFC debut against Brazilian Wendell de Oliveira Marques in place of the injured TJ Waldburger. He defeated Oliveira by knockout to get his first UFC victory.
Next, Till competed against Nicolas Dalby at UFC Fight Night 76 in October 2015. Following a back-and-forth match, the match resulted in a majority draw. Both contestants earned the Fight of the Night award.
In October 2017, Till and Donald Cerrone squared off at UFC Fight Night 118. Till ended up winning the match via TKO in the first round. Additionally, he received the Performance of the Night bonus for this win.
In May 2018, Till squared off against former UFC Welterweight championship contender Stephen Thompson. Till weighed 174.5 pounds during the weigh-ins. This is 3.5 pounds over than the 171-pound limit for Welterweight non-title bouts.
The match took place at a catchweight after negotiations with Thompson's side. Till ultimately won the match via a controversial unanimous decision.
At UFC 228 in September 2018, Till competed against Tyron Woodley for the UFC Welterweight Championship. In the second round, he was submitted by a D'Arce choke and lost the match. This loss marked his first MMA defeat.
Despite rumours of a possible move up to Middleweight, Till competed against Jorge Masvidal at UFC Fight Night 147 in March 2019 at Welterweight. Till was defeated in the second round via knockout.
Till made a comeback to the middleweight division to take on Kelvin Gastelum at UFC 244. He won the match in a close decision. Before the match, Till made an amazing body transformation.
In July 2020, Robert Whittaker and Till squared up for UFC on ESPN. He was defeated in the match via unanimous decision.
In September 2021, Till and Derek Brunson squared off at UFC Fight Night: Brunson vs. Till. In round three, he was submitted via rear-naked choke and lost the match.
At UFC 282, Till and Dricus du Plessis squared off in December 2022. He ended up losing the match via submission in round three. However, he received the Fight of the Night prize for this bout.
It was confirmed on February 28, 2023, that Till had left the UFC at his request in order to pursue other interests.
Darren Till previously spoke candidly about his mindset. He admitted that he was too preoccupied with furthering his boxing career to give any thought to his family.
He said: "You can't have worries outside of this game. I've got a girlfriend who's seven months pregnant, I don't really care. I've got a daughter in Brazil who I haven't seen for a year; I don't really care. I just care about legacy and greatness. That's what I'm in this for."
Darren Till previously had a tattoo of his girlfriend on his arms. Till previously said that he got the tattoo so that he could always keep her near him, even while he was away during matches. However, he has since covered up the place with a tattoo of a gorilla.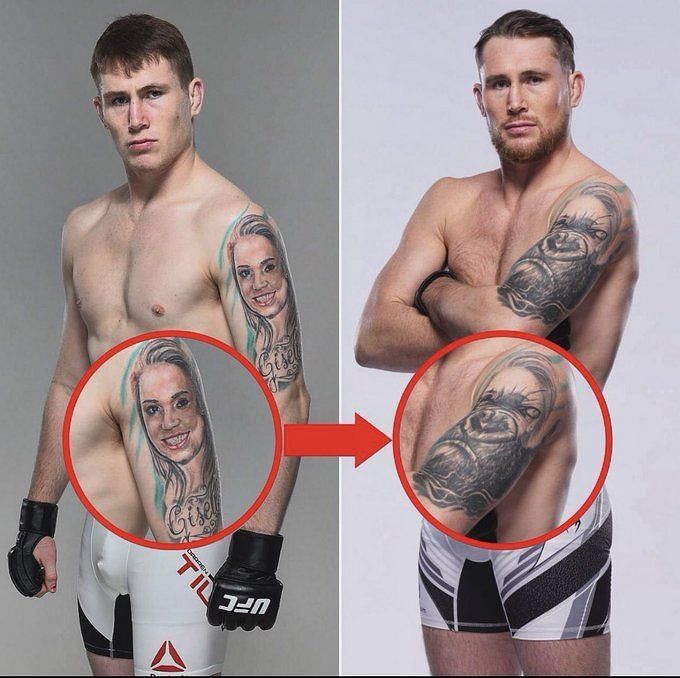 Adam Miller is a talented writer with a passion for the UFC. As a UFC writer for Calfkicker, he's found a way to combine his love for the sport with his gift for words. With a diploma in journalism and mass communication, Adam has a deep understanding of how to craft compelling content that resonates with readers.
Before finding his niche in the world of UFC writing, Adam worked as a freelance link builder and content writer. His diverse range of clients and businesses allowed him to hone his craft and develop a unique perspective that sets him apart from other writers in the field.