Dana White has shed light on Mark Zuckerberg's interest in stepping into the MMA arena.
Over the past few years, both Meta CEO Mark Zuckerberg and Elon Musk have hinted at the possibility of engaging in a mixed martial arts  bout. While Zuckerberg has displayed a consistent dedication to training in Brazilian Jiu-Jitsu and MMA, Musk has faced challenges due to injuries that have even required surgical intervention.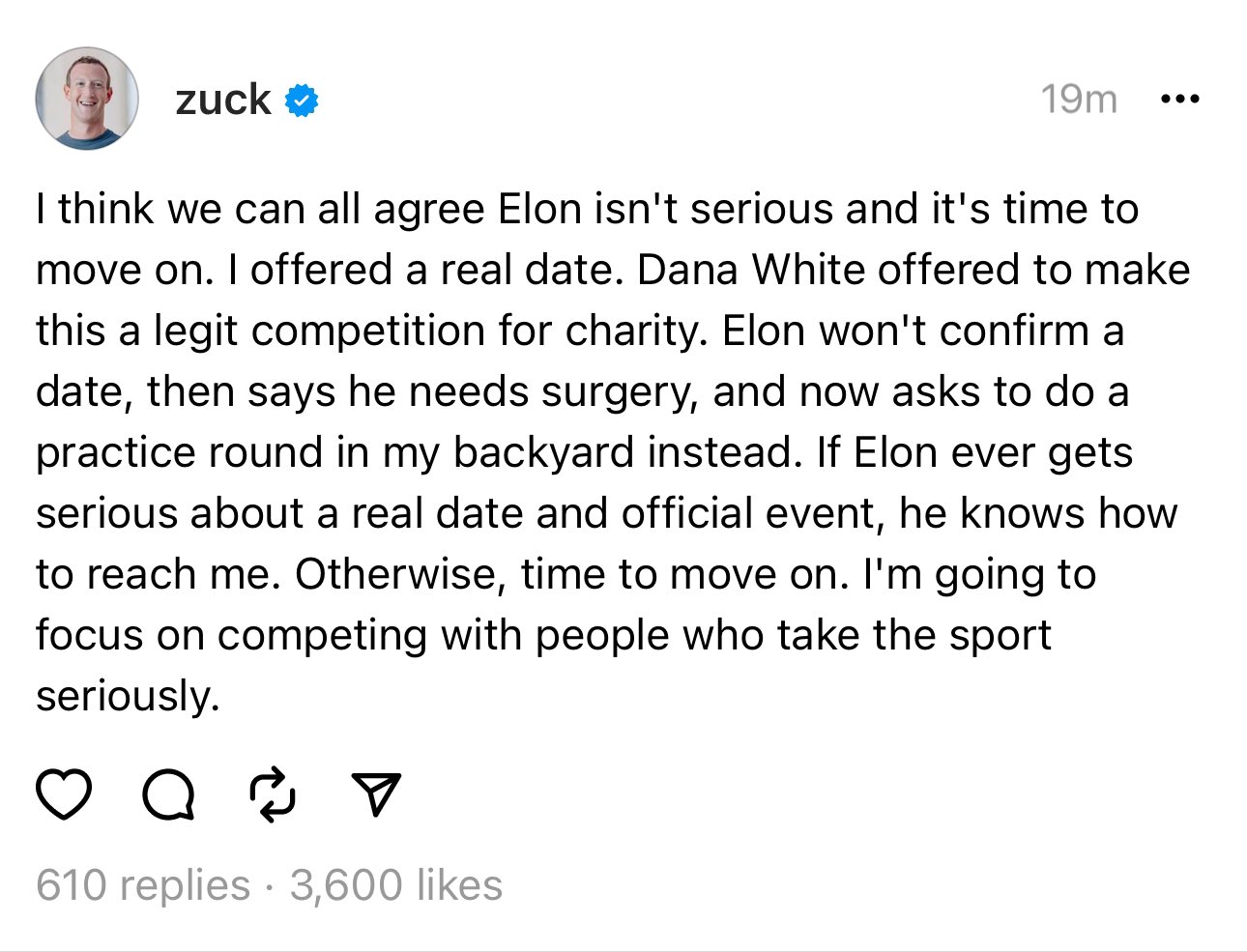 Musk proposed a "practice match" at Zuckerberg's residence in Palo Alto, California, which led Zuckerberg to question the genuine intent behind Musk's desire for an actual bout.
Although the likelihood of a clash between the tech giants seems unlikely now, Dana White has revealed that Zuckerberg is indeed interested in participating in a UFC event.
In a recent interview with TMZSports, White stated:
"Anything is possible. And I would say, he [Zuckerberg] is absolutely interested in that. TMZ is not wrong, I did talk to the people from the Ministry of Culture and they were interested in doing the fight so that is absolutely true."
White's comments during the interview indicated that there had been discussions about the potential bout involving Zuckerberg. He also addressed the engagement of the Ministry of Culture in these discussions, suggesting a level of seriousness in exploring the idea.
Dana White also said Mark Zuckerberg won't be at UFC2 92, but may show up to one of the DWCS events this season.
Mark Zuckerberg's commitment to MMA training, especially in BJJ, has been apparent through his posts on social media. While the idea of a fight between Zuckerberg and Musk might not materialize, it has certainly piqued the interest of combat sports enthusiasts and the tech community alike.
Musk's challenge to Zuckerberg is reminiscent of the "White-Collar Brawler," who seeks validation by attempting to prove physical prowess. However, Musk's reluctance to undergo the rigorous training required for an actual fight highlights a disparity between his intentions and actions.
As Musk and Zuckerberg's exchange unfolded, it became evident that Zuckerberg, known for his meticulous and data-driven approach to endeavors, was more inclined toward a genuine event. Despite this, Musk's preference for non-traditional arrangements and his avoidance of the genuine contest became increasingly apparent.