Charles Oliveira da Silva is a Brazilian professional mixed martial artist and also a 3rd degree black belt in Brazilian jiu-jitsu. He is a former Lightweight Champion of the UFC.
Oliveira began practising Brazilian jiu-jitsu in his early years and won many championship titles before switching to mixed martial arts in 2007. He won the São Paulo title for the second time in 2004, the Copa Nação Jiu-Jitsu in 2005, and 16 medals in total in 2006.
Oliveira went on to win the CBJJE South American Championship in 2007 as a blue belt. By 2007, he had already begun to orient his career towards MMA. 2010 saw him get his Brazilian jiu-jitsu black belt from Ericson Cardoso and Jorge Patino.
Charles Oliveira started his professional career in 2007 in his native Brazil. He amassed a 12-0 record with six knockouts and five submissions.
In his first match, he competed against Rui Machado in the amateur mixed martial arts competition Circuito Nacional de Vale-Tudo Amador. At 15 seconds into the opening round, Oliveira won the match by submitting Machado by armbar.
Oliveira made his professional debut in March 2008 at the Predator Fight Championship event. He defeated Diego Braga in the first round of the match by TKO (punches), thereby winning the competition.
In February 2010, Oliveira competed twice in one night. He beat Diego Bataglia by KO (slam) and Rosenildo Rocha by submission (rear-naked choke) in the first round.
Oliveira joined the UFC and faced Darren Elkins in his first match. Due to visa complications, this bout was moved from TUF: Team Liddell vs. Team Ortiz Finale to UFC Live: Jones vs. Matyushenko. After 41 seconds of the first round, Oliveira submitted Elkins via armbar. His performance won him the Submission of the Night award.
At UFC 124 in December 2010, Oliveira competed against Jim Miller. He suffered his first career defeat as he was swiftly submitted by kneebar in the first round.
In November 2011, Oliveira was scheduled to take against Joe Lauzon at UFC 138. Oliveira instead competed against Donald Cerrone at UFC on Versus 5, taking Paul Taylor's place. At 3:01 in the first round, he lost the match via TKO (punches).[30] After losing 0-2-1 NC in his last three bouts, his trainer said that Olveira intended to go down to the featherweight division.
In January 2012, at UFC on FX: Guillard vs. Miller, Oliveira and Robert Peralta were briefly mentioned as potential opponents. But at UFC on Fox: Evans vs. Davis, Oliveira faced off against promotional newcomer Eric Wisely in a featherweight contest. In the first round, Oliveira submitted his opponent with a reverse calf slicer submission.
At UFC 162 in July 2013, Oliveira competed against Frankie Edgar. He was defeated in the match by a unanimous decision.
In December 2014, Oliveira competed in the TUF 20 Finale against Jeremy Stephens. He won the match via unanimous decision.
In August 2015, Oliveira competed against Max Holloway at UFC Fight Night 74. He was unable to continue after sustaining an apparent neck/shoulder injury while trying a takedown. Oliveira lost the match through TKO in the first round.
Oliveira was discharged from a Saskatoon hospital the next day and tested negative for serious chest, neck, and/or throat injuries. The damage was subsequently characterised as a micro-tear in his esophagus. Later, he acknowledged that he suffered from a small neck injury from his training camp before.
At UFC on Fox 21 in August 2016, Oliveira competed against Anthony Pettis. In the third round, Pettis successfully submitted Oliveira using a guillotine choke.
In 2018, Oliveira joined Chute Boxe Diego Lima in São Paulo. While he was confident in his abilities, he believed he needed to develop his striking technique. His previous gym Macaco Gold Team (led by Jorge Patino), was mostly focused on BJJ with complementary striking.
At UFC Fight Night 137 in September 2018, Oliveira took on Christos Giagos. Oliveira ended up winning the match via submission in the second round. Oliveira ended up having has more submission victories (11) than Royce Gracie in UFC history after the victory.
Oliveira subsequently competed against Jared Gordon in November 2019 at UFC Fight Night 164. Oliveira emerged victorious in the match by way of a first-round knockout.
Charles Oliveira faced Lucas Barros from Demian Maia Jiu-Jitsu in a grappling superfight in the MMA competition SFT 20 in January 2020. Under IBJJF guidelines, Oliveira and Barros engaged in a jiu-jitsu match in a cage. Oliveira ended up winning the match.
In December 2020, Oliveira competed against Tony Ferguson in the co-main event of UFC 256. Oliveira won the match by unanimous decision after securing a tight armbar in the first round.
Following the retirement of former champion Khabib Nurmagomedov, Oliveira competed for the vacant UFC Lightweight Championship. He competed against former three-time Bellator Lightweight Champion Michael Chandler in May 2021.
Oliveira ended up winning the match by technical knockout early in the second round to win the UFC Lightweight Championship. With the win, Oliveira set a new record for the most finishes in UFC history.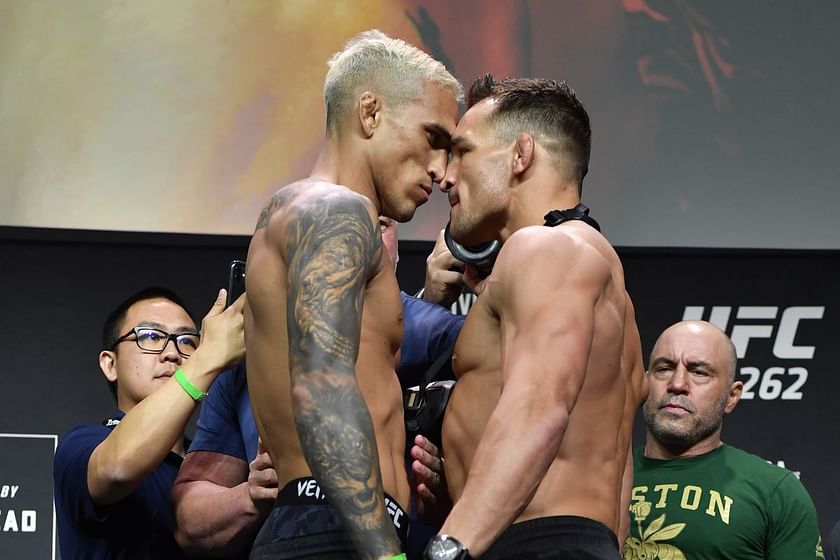 In December 2021 at UFC 269, Oliveira faced former interim lightweight champion Dustin Poirier in his first title defence. He won the match after submitting Poirier with a standing rear-naked choke in the opening minute of the third round.
At UFC 274, Oliveira was scheduled to defend his title against Justin Gaethje. Oliveira came in at the weigh-ins at 155.5 pounds, which is 0.5 pounds above the divisional title limit. As a consequence, Oliveira was formally stripped of the title before the bout began, leaving only Gaethje qualified to take it home.
For the first time in UFC history, a title was revoked because of a weight miss. Oliveira submitted Gaethje with a rear-naked choke in the first round to win the match and earn the title of top contender for the UFC Lightweight Championship.
In what became known as "scale gate," several competitors on the UFC 274 card claimed there were problems with the scales. Daniel Cormier, Junior dos Santos, and Glover Teixeira deemed it excessive to strip a champion of more than half a pound, which is appropriate for non-title bouts.
Helwani cited prior UFC matches that were sanctioned as championship title bouts. He also said that the state athletic commissions have no influence over what happens to a championship belt. Helwani stated that the decision to deprive Oliveira of the title was solely made by the UFC.
In October 2022 at UFC 280, Oliveira competed against Islam Makhachev for the vacant UFC Lightweight Championship. Oliveira was submitted in the second round via an arm-triangle choke.
In May 2023, Oliveira was supposed to compete against Beneil Dariush at UFC 288. Oliveira was forced to leave the event due to an injury. Thus, the bout was called off and moved to UFC 289 instead.
Oliveira finished Dariush with ground and pound in the first round to win the match through technical knockout.
Charles Oliveira and his wife had a daughter in 2017. He now lives in Guarujá, close to Vicente de Carvalho. He often does charitable work in the area.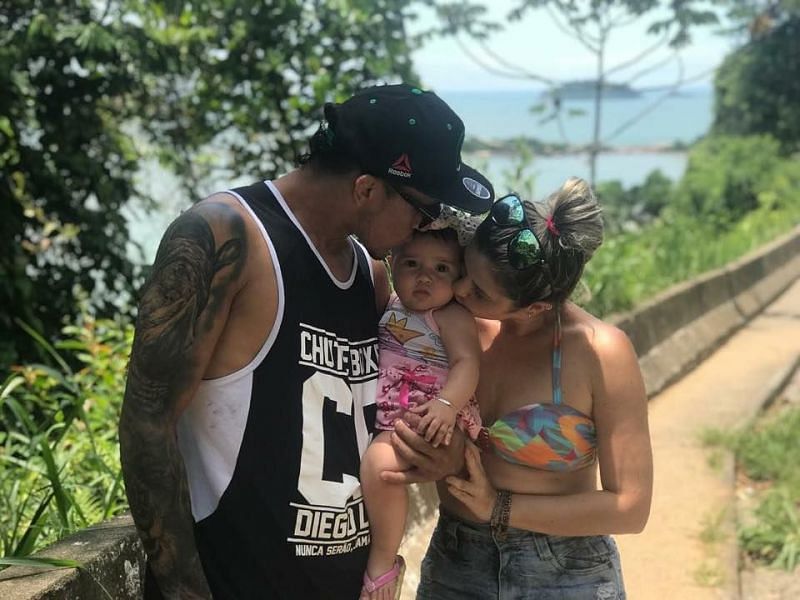 Oliveira always wore spectacles since she was nearsighted in the past. He said his eyes are "100% perfect" in October 2022 after undergoing corrective eye surgery.
Oliveira made the announcement that he was joining OnlyFans in February 2023 to provide his followers with a subscription-based service where they could see his workouts and training regimen, among other stuff.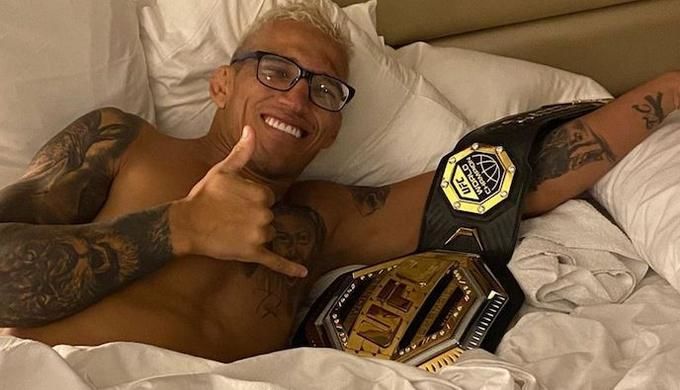 His moniker "do Bronx" literally means "from the Bronx." The term "Bronx" was slang for favelas and impoverished areas. In an interview, Charles stated: "Bronx is because it's a favela, right? Outskirts, where I come from. 'Do Bronx' practically came when I went to fight in a [amateur] tournament."
"And they told me to get them a nickname, I was just Charles Oliveira. When we went to fight some jiu-jitsu championships, they always said 'look at the guys from the Bronx, from the favela'. So I put 'do Bronx' in."