Michael Gerard Tyson was born on June 30, 1966, in Fort Greene, Brooklyn, New York City.
Tyson's mother was described as a promiscuous woman, and his biological father is listed as "Purcell Tyson" on his birth certificate.
The man Tyson knew as his father was a pimp named Jimmy Kirkpatrick, who abandoned the family when Mike was born.
After the death of Tyson's mother, he was taken in by boxing manager and trainer Cus D'Amato, who became his legal guardian.
Tyson had a troubled childhood, growing up in neighborhoods with high crime rates, engaging in fights, and committing petty crimes.
He was arrested 38 times by the age of 13 and eventually ended up at the Tryon School for Boys in Johnstown, New York.
Tyson won gold medals at the 1981 and 1982 Junior Olympic Games, defeating Joe Cortez in 1981 and beating Kelton Brown in 1982.
In 1984, Tyson won the gold medal at the Nation Golden Gloves held in New York, defeating Jonathan Littles.
Tyson fought Henry Tillman twice as an amateur, losing both bouts by decision.
https://www.facebook.com/100003538462090/videos/1603024610040572/
Tillman went on to win heavyweight gold at the 1984 Summer Olympics in Los Angeles.
Tyson made his professional debut on March 6, 1985, defeating Hector Mercedes via first-round TKO.
Tyson won 26 out of his first 28 fights by KO or TKO, with 16 of them ending in the first round.
His opponents in the beginning were journeyman fighters and borderline contenders.
Tyson's win streak gained media attention, and he was hailed as the next great heavyweight champion.
Tyson's first nationally televised bout took place on February 16, 1986, against Jesse Ferguson, which he won by TKO.
Tyson fought Marvis Frazier in July 1986 and knocked him out in just thirty seconds.
On November 22, 1986, at the age of 20 years and 4 months, Tyson became the youngest heavyweight champion in history by defeating Trevor Berbick.
Mike Tyson in London in 1987.
Tyson's success in the ring caught the attention of Nintendo, leading to the release of Mike Tyson's Punch-Out!! game, which sold over a million copies.
Tyson dropped out of high school as a junior but later received an honorary Doctorate in Humane Letters from Central State University in 1989.
Tyson won the heavyweight unification series, becoming the undisputed champion, and held the WBA, WBC, and IBF titles simultaneously.
Tyson defended his title against James Smith, winning by unanimous decision and adding Smith's WBA title to his collection.
"Tyson-mania" in the media was growing during this time.
Tyson defeated Pinklon Thomas by TKO in the sixth round.
He took the IBF title from Tony Tucker in a twelve-round unanimous decision, becoming the first heavyweight to own all three major belts.
Tyson defeated Tyrell Biggs by TKO in the seventh round.
Tyson developed a taste for luxurious goods.
Tyson's marriage to Robin Givens was heading for divorce, and his future contract was being fought over by Don King and Bill Cayton.
Tyson parted ways with manager Bill Cayton and fired trainer Kevin Rooney, which led to allegations of Tyson showing less head movement and combination punching.
Fights in 1989: Tyson had two fights amid personal turmoil, facing British boxer Frank Bruno and knocking him out in the fifth round. He also knocked out Carl "The Truth" Williams in the first round.
Buster Douglas match: In 1990, Tyson lost the undisputed championship to Buster Douglas in Tokyo. Tyson was a heavy favorite, but Douglas's quick jab and reach advantage proved challenging for Tyson. Douglas knocked Tyson down for the first time in his career and won by knockout.
Douglas's victory over Tyson has been described as one of the most shocking upsets in modern sports history, considering Tyson's undefeated status and reputation as the "baddest man on the planet."
Tyson considers losing to Douglas the greatest moment of his career, as it made him a better person and boxer.
Due to allegations of early stoppage, Tyson ended up re-matching Ruddock after the win to solidify dominance.
Tyson was scheduled to face Holyfield for the undisputed championship but pulled out due to a rib cartilage injury.
Mike Tyson was arrested in July 1991 for the rape of Desiree Washington in an Indianapolis hotel room. He was convicted on February 10, 1992, and sentenced to six years in prison with four years of probation. Tyson served less than three years of the sentence and was released in March 1995. While in prison, he reportedly converted to Islam and adopted the name Malik Abdul Aziz or Malik Shabazz. Despite the rumors, Tyson did not change his given name. Due to his conviction, he is required to register as a Tier II sex offender under federal law.
in 1996, Evander Holyfield won the WBA heavyweight title with an 11th round TKO of Mike Tyson in Las Vegas.
After being paroled, Tyson won his comeback against Peter McNeeley and Buster Mathis Jr.
Tyson's first comeback grossed over $96 million worldwide, with a record-breaking $63 million from PPV television.
The card was viewed by 1.52 million homes, setting both PPV viewership and revenue records.
Tyson's management faced criticism for allegedly lining up easy opponents for his return.
The Tyson–McNeeley was included in TV Guide's list of the 50 Greatest TV Sports Moments of All Time in 1998.
Tyson regained the WBC title by defeating Frank Bruno in the third round.
Lennox Lewis turned down $13.5 million to box Tyson and accepted $4 million to step aside and let Tyson box Bruce Seldon for an expected $30 million.
Tyson added the WBA belt by defeating champion Seldon in the first round.
Tyson faced Evander Holyfield in a title bout and was defeated by TKO in round eleven.
Holyfield became the second boxer to win a heavyweight championship belt three times.
Tyson's camp alleged Holyfield's frequent headbutts during the fight, which became a point of contention.
Tyson and Holyfield had a rematch on June 28, 1997, titled "The Sound and the Fury."
The fight took place at the Las Vegas MGM Grand Garden Arena, where the first bout was held.
The rematch was a lucrative event, grossing $100 million, with Tyson receiving $30 million and Holyfield $35 million.
The fight was purchased by 1.99 million households, setting a pay-per-view buy rate record.
In the third round, Tyson was disqualified for biting Holyfield on both ears, resulting in Holyfield winning the match.
The first bite removed a piece of Holyfield's right ear, leading to a near riot and injuries in the arena.
Tyson's boxing license was rescinded by the Nevada State Athletic Commission, and he was fined $3 million.
In January 1999, Mike Tyson fought Francois Botha, with Tyson winning by knocking out Botha in the fifth round.
Tyson stopped using the bob and weave defense after this fight.
Tyson's promotion of the fight on WWOR-TV involved an expletive-laden tirade.
In February 1999, Tyson was sentenced to imprisonment, fined, and ordered probation for assaulting two motorists.
Tyson's fight against Orlin Norris in October 1999 was ruled a no contest after Norris was injured and unable to continue.
In 2000, Tyson replaced his team and hired new accountants, revealing a starting debt of $3.3 million but earning $65.7 million that year.
Tyson had three fights in 2000: against Julius Francis, Lou Savarese, and Andrew Golota. He won all three fights, with controversy surrounding some of the bouts.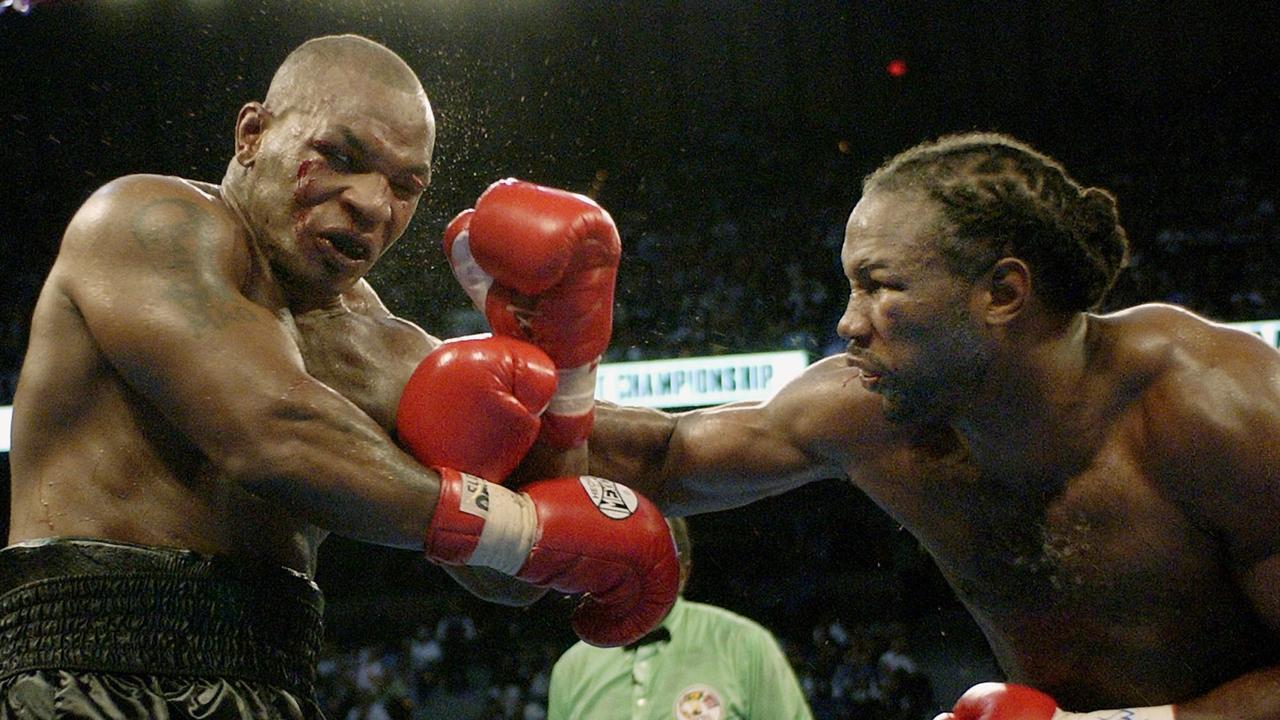 Tyson fought Lennox Lewis for the heavyweight championship in 2002, with Lewis winning by knocking out Tyson in the eighth round.
Tyson defeated Clifford Etienne in a fight on February 22, 2003, marking his final professional victory.
In August 2003, Tyson filed for bankruptcy, with an estimated debt of approximately $23 million despite earning over $300 million throughout his career.
Tyson's felony history prevented him from obtaining a visa to enter Japan, leading to the cancellation of a potential fight against Bob Sapp.
In a match against Danny Williams on July 30, 2004, Tyson tore a ligament in his knee during the first round and was unexpectedly knocked out in the fourth round.
On June 11, 2005, Tyson quit before the seventh round against Kevin McBride, expressing his lack of passion for the sport.
In August 2007, Tyson pleaded guilty to possession and driving under the influence, admitting to coke use.
Tyson's daughter Exodus tragically died on May 26, 2009, after being found unconscious and tangled in a cord.
Tyson has been involved in acting, notably playing a fictionalized version of himself in the movie "The Hangover."
Nowadays Mike Tyson lives a much quieter life. He hosts a podcast and has an edibles company that is the main way he supports himself and his family.
Tyson briefly unretired in 2020 when he faced Roy Jones Jr in an exhibition. The match ended in a draw.
Adam Miller is a talented writer with a passion for the UFC. As a UFC writer for Calfkicker, he's found a way to combine his love for the sport with his gift for words. With a diploma in journalism and mass communication, Adam has a deep understanding of how to craft compelling content that resonates with readers.
Before finding his niche in the world of UFC writing, Adam worked as a freelance link builder and content writer. His diverse range of clients and businesses allowed him to hone his craft and develop a unique perspective that sets him apart from other writers in the field.