Sean Strickland has a highly vocal and divisive personality in the world of MMA.
He has made headlines once again with his outspoken nature. The UFC middleweight recently created a podcast along with UFC friend Chris Curtis. From the get go, the two were set for viral stardom.
Recently, Strickland made comments on their podcast that captivated the attention of the public. During the discussion, he shared his thoughts on a hypothetical matchup between a significantly smaller UFC champion and a massive NFL linebacker.
Strickland specifically mentioned Brandon Moreno, the current flyweight champion, as a small guy capable of defeating much larger American Football players.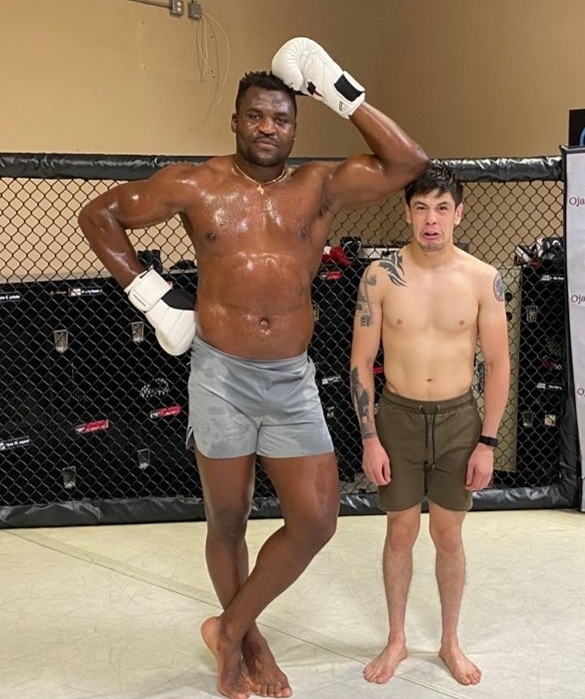 Expressing his opinion, Strickland boldly stated, "A small champion could go and dominate an NFL player. You know, that little Mexican guy, what's his name, the champion?" When informed of Moreno's name, he confidently asserted that the flyweight champion would likely emerge victorious against an NFL linebacker.
This conversation emerged following retired NFL player Clay Harbor's tweet, where he claimed he could defeat Henry Cejudo, who stands at a height of 5'3″.
The statement triggered heated debates on Twitter, with many arguing that Harbor was underestimating the significant skill disadvantage he would face.
MMA analyst Luke Thomas thought of an another example. Back in 2010 there was a somewhat similar incident.
Roger Huerta allegedly tussled with former University of Texas linebacker Rashad Bobino.
Bobino last played for the Longhorns in 2008 and worked with the Atlanta Falcons before the 2009 season.
The incident came to be Bobino allegedly struck a woman although it has not been officially confirmed by the Austin Police Department.
Rashad Bobino was said to have punched the woman from behind, according to multiple sources.
Bobino's listed measurements are 5-foot-10 and 238 pounds during his time at Texas.
Roger Huerta, who competed in the 155-pound division, likely walked around 175 pounds.
Since 2014, Benny A. King has been fully immersed in the world of combat sports. Starting with a blog about Greco Roman wrestling, Benny's passion for combat sports has led him to explore various disciplines.