Robert Glenn Lawler was bon in San Diego, California, on March 20, 1982.
At the age of eight, Lawler relocated to Bettendorf, Iowa. He started living with his father who served in the Marine Corps.
At the age of eight, Lawler started training in taekwondo. He then went on to take up karate two years later.
Lawler attended Bettendorf High School, where he was given All-State honors in wrestling and All-Conference in football. When he was 16 years old, Pat Miletich took him under his wing. He started training with Miletich Fighting Systems soon after he finished graduation in 2009.
Robert Lawler made his professional debut in 2001. In his first four professional bouts, he won all of them via TKO/KO.
At UFC 37, Lawler faced off against veteran Aaron Riley in his UFC debut. Lawler won by unanimous decision in the match.
The next month, Lawler faced Steve Berger at UFC 37.5 and defeated him by TKO.
Lawler went on to face Pete Spratt at UFC 42, losing by submission as a result of a knee injury.
Lawler competed against multiple-time Strikeforce Welterweight Champion and former WEC Welterweight Champion Nick Diaz in his match at UFC 47. In the second round, Lawler suffered the first of just three knockout defeats in his whole career.
Lawler competed at SuperBrawl in Hawaii, where he knocked out Falaniko Vitale to win the middleweight title. After that, Lawler made his King of the Cage debut by defeating Jeremy Brown by armbar submission.
At PRIDE 32 in Las Vegas, Nevada, Lawler made his PRIDE debut against Joey Villasenor. He ended up defeating him by knockout.
In his subsequent match, Lawler made his IFL debut. He competed against Eduardo Pamplona and won via TKO in Atlanta.
In May 2008, Lawler faced off against Scott Smith to defend his EliteXC Middleweight Championship. The match ended in a no contest when Lawler accidentally poked Smith in the eye.
EliteXC then announced that they were filing for bankruptcy. Lawler's contract was picked up by Strikeforce, and he was scheduled to make his debut against Jake Shields in June 2009. Lawler lost the match in the first round via submission (guillotine choke).
In February 2013 at UFC 157, Lawler made a comeback to the welterweight class and competed against Josh Koscheck. He ended up winning the match via first-round TKO and received the Knockout of the Night bonus.
At UFC 167, Lawler went up against Rory MacDonald. He ended up winning the match via close decision.
Georges St-Pierre announced in December 2013 that he will be retiring from mixed martial arts and giving up his UFC welterweight title. Following the declaration, Dana White revealed that Lawler will face off against Johny Hendricks for the vacant championship in March 2014 at UFC 171. Lawler was defeated by a unanimous decision in the competitive bout.
At UFC 181 in December 2014, Lawler competed against Johny Hendricks in the rematch for the UFC Welterweight Championship. He ended up winning the match and the title by split decision.
At UFC 189, a rematch with Rory MacDonald took place in July 2015. Lawler successfully defended his championship by TKO in the fifth round. Both contestants were awarded Fight of the Night for their back-and-forth exchanges.
UFC president Dana White praised the contest as one of the greatest welterweight bouts in the history of the organization. The contest was selected as the 2015 Sherdog Fight of the Year. Additionally, an ESPN poll named it the best match in UFC history in 2017.
In July 2016, Lawler and Tyron Woodley squared off in the main event of UFC 201. He was knocked out in the first round of the bout, and ended up losing the title.
Lawler and Donald Cerrone were briefly mentioned as potential opponents. A few days after the announcement, Lawler had opted out of the contest to give himself more time to heal from his most recent loss.
In July 2017, Cerrone and Lawler squared off at UFC 214. Lawler ended up winning the match by way of unanimous judgement. He dedicated his victory to Matt Hughes in the interview after the match. Hughes had suffered severe injuries in a truck accident in June 2017 and was at the time undergoing treatment.
In March 2019 at UFC 235, Lawler squared off against Ben Askren. Early in the match, Lawler seemed to have the advantage against Askren. But a bulldog choke ultimately caused him to lose.
Lawler's arm appeared to go limp during the match, indicating that he had passed out. But as referee Herb Dean was checking to see if he was out, Lawler appeared to signal a thumbs up and jumped up immediately after the stoppage. This raised questions about whether or not he had actually passed out.
In August 2019, Lawler and Colby Covington squared off on UFC on ESPN 5. He ended up losing the match by unanimous decision.
In September 2021 at UFC 266, a rematch between Lawler and veteran Nick Diaz took place. The middleweight match was a five-round matchup without a championship or main event. Lawler knocked him down in the third round. When the referee told Diaz to get back to his feet, he did not do so. Lawler was therefore given the victory through TKO.
It was announced in April 2023 that Lawler and Rory MacDonald will be inducted into the UFC Fight Wing Hall of Fame in July 2023. This will be due to their welterweight championship match from July 2015.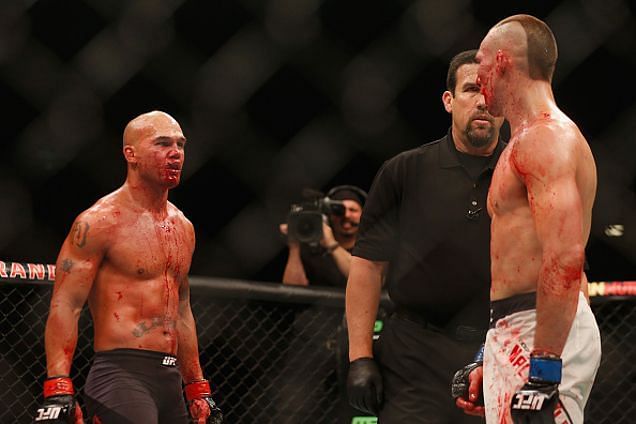 Lawler is scheduled to take on Niko Price at UFC 290 on July 8, 2023.
Robert Lawler is married to his wife Marcia Suzanne Lawler. The couple also has a son together.
Adam Miller is a talented writer with a passion for the UFC. As a UFC writer for Calfkicker, he's found a way to combine his love for the sport with his gift for words. With a diploma in journalism and mass communication, Adam has a deep understanding of how to craft compelling content that resonates with readers.
Before finding his niche in the world of UFC writing, Adam worked as a freelance link builder and content writer. His diverse range of clients and businesses allowed him to hone his craft and develop a unique perspective that sets him apart from other writers in the field.