Dana White has held the position of President of the UFC for more than two decades. With the rising popularity of mixed martial arts and in particular the UFC, White has gained significant recognition.
Recently, Dana White's influential presence was highlighted when a devoted fan decided to honour him in a rather unique way. Instagram user @nit_soisuda proudly shared a photo of her new back tattoo, displaying the words 'Dana White' in cursive.
Accompanying the photo, she expressed her respect and admiration: "My back up 🙏🏻❤️ Respectful to you"
White shared the tagged post on his own story, responding with: "Holy s**t 🙏🏻"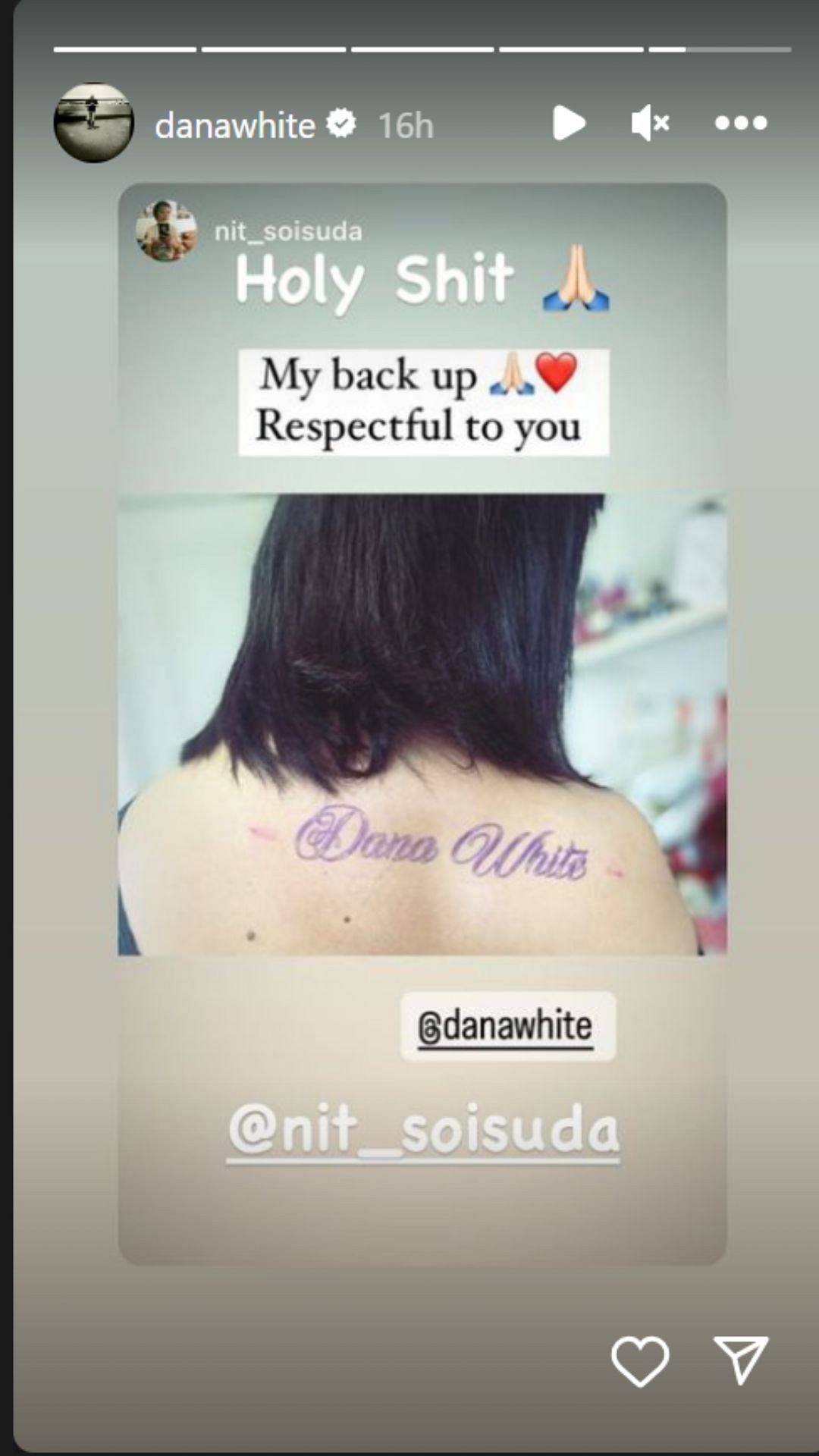 Dana White has continuously captured public attention. Despite facing criticism from both fans and combatants during his tenure as UFC President, he has emerged as one of the most popular and respected figures in the world of sports.
Under Dana White's leadership, the UFC has experienced unprecedented success and exponentially expanded its influence over the past two decades. It is evident that White's dedication and passion for his role contribute to the promotion's ongoing success. He seems to enjoy his profession and has lots of enthusiasm for it, so it's unclear whether he has any intentions to retire and leave the promotion anytime soon.
When questioned about Conor McGregor joining the United States Anti-Doping Agency testing pool, Dana White was not pleased with the response to his refusal to talk about the his return to the UFC. After UFC 290, White addressed the media and said:
"There's a lot of business that needs to be handled before we talk about this and I was doing an interview on Friday and a bunch of f**king s**mbags wrote stories that I said, 'F**k USADA, I don't care what USADA says.' It's not even remotely close to what I said, so first of all I'd like to say, 'F**k you' to everybody that wrote that story, number one."
Although McGregor has said that he would compete against Michael Chandler before the year is up, there hasn't been much development in that regard. According to reports, McGregor is still not included in the USADA testing pool.
Adam Miller is a talented writer with a passion for the UFC. As a UFC writer for Calfkicker, he's found a way to combine his love for the sport with his gift for words. With a diploma in journalism and mass communication, Adam has a deep understanding of how to craft compelling content that resonates with readers.
Before finding his niche in the world of UFC writing, Adam worked as a freelance link builder and content writer. His diverse range of clients and businesses allowed him to hone his craft and develop a unique perspective that sets him apart from other writers in the field.